Memoir 38—Geology and mineral technology of the Grants uranium region 1979
Compiled by C. A. Rautman in cooperation with 83 authors, 1980, 400 pp., 66 tables, 483 figs.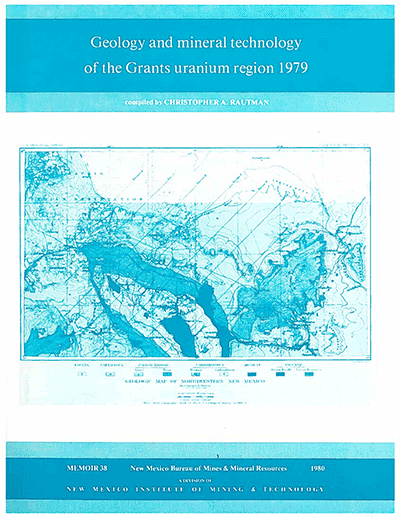 The continued expansion of national energy programs has resulted in new growth and exploration in the Grants uranium region. This volume includes 45 papers and expanded papers plus four abstracts, all given at the 1979 Grants Uranium Symposium, Albuquerque, New Mexico.
The first "Symposium on the Geology of the Grants Uranium Region" was held as a field conference sponsored by the Society of Economic Geologists in 1961. One of the Lasting results of this conference was the 1963 publication of New Mexico Bureau of Mines and Mineral Resources Memoir 15. Through the years since 1963, this volume has remained an authoritative reference to the geology of this prolific mineral belt in northwestern New Mexico. Despite the continuing usefulness of Memoir 15, the tremendous development of the Grants mineral belt since 1963 has resulted in an expansion both of ore reserves and of our knowledge of the deposits. By the mid-1970s, many people working in the area felt that a revision of Memoir 15 was needed. Late in 1977, a decision was made to convene a new conference and to solicit papers from geologists working in the area.
The response to the call for papers was extremely gratifying. Geologists from across the country rose to the occasion, and, despite full-time duties elsewhere, submitted literally dozens of papers. Contributing authors represented all facets of geologic endeavor: industry, government, academic institutions, and private individuals. The symposium attracted over 800 geologists and other scientists, including representatives from six foreign countries. Forty-six papers were presented at the 1979 symposium. The present volume comprises these papers plus an additional three. The papers cover the broad spectrum of Grants region geology, including discussions of exploration history and methods, individual deposits and regional phenomena, and petrographic investigations and field studies. More peripheral but vitally related topics such as severance taxes, ground-water hydrology, and experimental studies also are included. Although no attempt has been made to compile a total synthesis of knowledge in the Grants uranium region, the hope is that this memoir may serve as a reference work to the region for many years to come.
Papers included are: Exploration in Grants uranium region since 1963 by W. L. Chenoweth and H. K. Holen; Grants and world uranium by R. J. Wright; Stratigraphic implications of uranium deposits by F. F. Langford; Exploration for uranium deposits, Grants mineral belt by D. C. Fitch; Geochronologic studies in the Grants mineral belt by D. G. Brookins; Deposition and early hydrologic evolution of Westwater Canyon wet alluvial-fan system by W. E. Galloway; Disconformities in Grants mineral belt and their relationship to uranium deposits by M. W. Green; Organic geochemistry and uranium in Grants mineral belt by J. S. Leventhal; Origin and significance of organic matter in uranium deposits of Morrison Formation, San Juan Basin, New Mexico by J. B. Squyres; Effects of ground-water flow on the origin of Colorado Plateau-type uranium deposits by F. G. Etheridge, et. al.; Dissolution and authigenesis of feldspars by S. R. Austin; Tertiary oxidation in Westwater Canyon Member of Morrison Formation by A. E. Saucier; Depositional environments as ore controls in Salt Wash Member, Morrison Formation, (Upper Jurassic) Carrizo Mountains area, Arizona and New Mexico by A. C. Huffman, Jr., et. al.; Geology of pre-Dakota uranium geochemical cell, sec. 13, T. 16N., R. 17W., Church Rock area, McKinley County by R. J. Peterson; Geology or Crownpoint sec. 29 uranium deposit, McKinley County by D. W. Wentworth, et. al.; Geology of eastern Smith Lake ore trend, Grants mineral belt by S. J. Ristorcelli; Depositional environment of Brushy Basin Member, Morrison Formation, in Gulf Mariano Lake mine, McKinley County by J. T. Jenkins, Jr., and S. B. Cunningham; Mineralogical variations across Mariano Lake roll-type uranium deposit, McKinley County by S. C. Sachdev; Mineralogy and geochemistry of Mariano Lake uranium deposit, Smith Lake district by J. Place, et. al.; Geophysical experiments at Mariano Lake uranium orebody by D. T. Thompson; Uranium ore rolls in Westwater Canyon Sandstone, San Juan Basin, New Mexico by D. S. Clark; Heavy-mineral criteria for subsurface uranium exploration, San Juan Basin, New Mexico by D. W. Rhett; Petrology of Westwater Canyon Member, Morrison Formation, east Chaco Canyon drilling project, New Mexico-Comparison with Grants mineral belt by R. T. Hicks, et. al.; Geology and recognition of a relict uranium deposit in sec. 28, T. 14N., R. 10W., southwest Ambrosia Lake area, McKinley County by D. A. Smith and R. J. Peterson; Redistributed orebodies of Poison Canyon, sec. 18 and 19, T. 13N., R. 9W., McKinley County by T. N. Tessendorf; Geology and ore deposits of Johnny M mine, Ambrosia Lake district by S. K. Falkowski; An anomalous orebody within the Ambrosia Lake trend at Sandstone mine by J. F. Foster and R. J. Quintanar; Scanning-electron-microscope investigation of paragenesis of uranium deposits, Mount Taylor and elsewhere, Grants mineral belt by W. C. Riese, et. al.; Geology and development of Marquez, New Mexico, uranium deposit by B. A. Livingston, Jr., The Bernabe Montaño uranium deposit, Sandoval County by R. G. Kozusko and A. E. Saucier, Jackpile-Paguate deposit-A review by R. G. Beck, et. al.; Magnitude and variability of disequilibrium in San Antonio Valley uranium deposit, Valencia County by S. C. Moore and N. G. Lavery; Sedimentary controls on uranium ore at L-Bar deposits, Laguna district, New Mexico by L. C. Jacobsen; Comparison of braided-stream depositional environment and uranium deposits at Saint Anthony underground mine by C. W. Baird, et. al.; Geology and characteristics of uranium mineralization in the Morrison Formation at Dennison-Bunn claim, Sandoval County by J. L. Ridgley; Uranium in Todilto Limestone (Jurassic) of New Mexico-Example of a Sabkha-like deposit by R. R. Rawson; Effects of uranium mining on ground water in Ambrosia Lake area, New Mexico by T. E. Kelly, et. al.; Preliminary estimates of effects of uranium-mine dewatering on water levels, San Juan Basin by F. P. Lyford, et. al.; Uranium royalties and severance taxes in the Grants region, with examples of their effects on minimum producible grade by J. W. Malvin; Uranium solution mining-Comparison of New Mexico with south Texas by W. D. Conine; Application of solution-mineral equilibrium chemistry to solution mining of uranium ores by A. C. Riese and C. J. Popp; Applications of computer modeling to the genesis, exploration, and in-situ mining of uranium and vanadium deposits by D. D. Runnells, et. al.; Use of helium in uranium exploration, Grants district by R. H. DeVoto, et. al.; Radon emanation over an orebody--Search for long-distance transport of radon by R. L. Fleischer, et. al., and Direct measurement of uranium by prompt-fission neutron method of pulsed-neutron borehole logging by H. M. Bivens, et. al. The four abstracts included are: Geochemical and clay mineralogical studies, Grants mineral belt by D. G. Brookins; Mount Taylor uranium deposit, San Mateo, New Mexico by W. C. Riese and D. G. Brookins; Thermoluminescence of uranium host rocks in Ambrosia Lake area by D. L. Hayslip, et. al.; and Geochemical studies of Grants mineral belt by R. S. Della Valle and D. G. Brookins.