Amy Dunn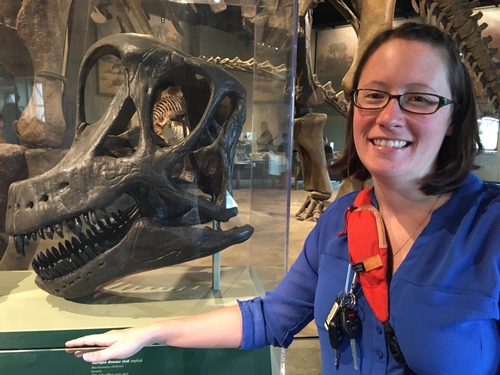 GIS Technician/Cartographer
New Mexico Bureau of Geology & Mineral Resources
New Mexico Institute of Mining & Technology
801 Leroy Place
Socorro NM 87801-4796
575-835-5501
(575) 835-6333 fax
I am one of the GIS Technician/Cartographers for the Geologic Map Production Group at the New Mexico Bureau of Geology and Mineral Resources. I will be working with field geologists and using ArcGIS, Adobe Illustrator and Global Mapper to update legacy quadrangles and produce geologic maps for the USGS STATEMAP program. I have a BS in Geology from Michigan Tech and a gradute certificate in GIS from Northwest Missouri State. I grew up in Michigan, followed my husband to South Dakota, Colorado, and eventually New Mexico in 2017. He has worked as a paleontologist for the Bureau of Land Managment - Las Cruces District Office since 2016. We currently live on the Rio Grande in Truth or Consquences with our two cats. I enjoy playing boardgames, reading, crafting, and traveling.
Updated Jan 2019.
Education
Experience
New Mexico Bureau of Geology and Mineral Resources, New Mexico Tech

GIS Technician/Cartographer Dec 2018–Present

Traffic Operations, City of Rapid City, South Dakota

GIS Intern, Jul 2011–Jun 2015

Collected GPS data on traffic signs for a sign inventory geodatabase.

Bureau of Land Management Las Cruces District Office

GIS Volunteer, Feb 2018–Present

Worked with a range specialist to edit and update spatial data for range improvement projects on various grazing allotments.
Collected GPS data and photos for a road inventory for Organ Mountains - Desert Peaks and Prehistoric Trackways National Monuments.
Memberships