Dr. John Hawley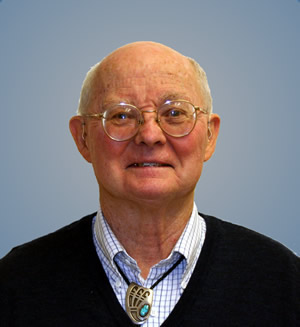 Emeritus - Sr. Environmental Geologist
New Mexico Bureau of Geology & Mineral Resources — Albuquerque Office
1015 Tijeras Avenue NW, Suite 200
Albuquerque NM 87102-2909
505-255-4847
Education
Hanover College, Indiana, B.A., cum laude, Geology, 1954
University of Illinois-Urbana, Ph.D., Geology, 1962
Career Highlights
1954-1977
Entry-level professional activity, interrupted by overseas military service with U.S. Army-Corps of Engineers (1955-1956), included employment with the U.S. Geological Survey, Illinois Geological Survey, Nevada Department of Conservation & Natural Resources, and Desert Research Institute. Ph.D. research (1959-1962) on Quaternary and groundwater geology of the Humboldt River basin in Nevada. Project Leader (1962-1977) of USDA-Soil Conservation Service-Soil Survey projects at New Mexico State University (NMSU), Texas Tech University, and Regional Technical Service Centers in Fort Worth, TX and Portland, OR. Emphasis was on geologic, soil-geomorphologic, and hydrogeologic interrelationships in arid and semiarid regions, including collaboration with state and other federal agencies in the USA and Mexico.
1977-1997
NM Bureau of Mines & Mineral Resources (NMBGMR now NMBGMR), a division of the NM Institute of Mining & Technology (NM Tech). Primary responsibilities involved development and management of the Bureau's research and public service program in environmental geology. Initiated cooperative programs in environmental geology with Los Alamos National Laboratory (1985-1993) and the All Indian Pueblo Council–Pueblo Office of Environmental Protection (1993-1997). Organized and managed the Bureau of Geology Albuquerque Office (1991-1997), which specializes in the hydrogeology of basin-fill aquifer systems, environmental geology (including geologic-hazard and waste-management assessments), and geologic mapping.
1997-present
Emeritus Senior Environmental Geologist with the Bureau involved in digital mapping of the State's landforms and surficial geology. Graduate Faculty Adjunct in the NM Tech—Earth & Environmental Science Department. Adjunct Curator in the NM Museum of Natural History & Science—Science Division. Senior Hydrogeologist at the Water Resources Research Institute (NMWRRI) and Adjunct Professor of Geological Sciences at NMSU. Specific NMWRRI projects include: 1) Research on Trans-boundary Aquifers of the New Mexico–Chihuahua region (Co-PI: 1998-2000 USEPA Interagency Contract) that developed basin-scale hydrogeologic-framework models of groundwater-flow systems; 2) studies of Transboundary basin-fill aquifer systems of the southern NM border region (Co-PI: 2002-), with partial support from the NM Interstate Stream Commission, USEPA, USGS, and NSF-SAHRA-CEACREST glue-grants; 3) US BOR-funded study (Co-PI: 2004-2005) of irrigation-canal seepage losses in the Arch-Hurley Conservancy District (Conchas-Canadian river basin); and 4) development of new digital hydrogeologic models of aquifer systems in the Mesilla Basin-Paso del Norte area with the El Paso Water Utilities staff.
Dr. Hawley has authored or co-authored more than 100 publications** on the environmental geology, hydrogeology, and geomorphology of arid and semi-arid lands in western North America. Honors for published research and scientific-community service include awards from the Geological Society of America (the 1983 Kirk Bryan Award for desert soil-geomorphic research***, the 2005 Engineering Geology Div. Distinguished Practice Award, and the 2006 Quaternary Geology & Geomorphology Div. Distinguished Career Award), American Association for the Advancement of Science (1987 Certificate of Merit for Arid Zone Research), State Commission on Higher Education (1989 NM Eminent Scholar), and the US Geological Survey-NM District (1998).
Other professional activities and honors include: NM Water Conference Advisory Committee; Past President and Honorary Member of the NM Geological Society, and co-dedicatee of the NMGS 50th Annual Field Conference Guidebook on "Albuquerque Geology" (1999); Hanover College Alumni Achievement Award for "outstanding career contributions to the science of geology" (2001); Amer. Inst. of Professional Geologists-NM Section (2002), and recipient of the AIPG Presidential Award of Merit (2003); co-recipient of the NM Earth Science Achievement Award (2005) for" outstanding contributions in areas of applied science and education;" Dedicatee of the NM Museum of Natural History Bulletin No. 28: New Mexico's Ice Ages (**Love 2005, Hawley 2005); and University of Illinois-Geology Alumni Achievement Award (2006).