Dr. Shari Kelley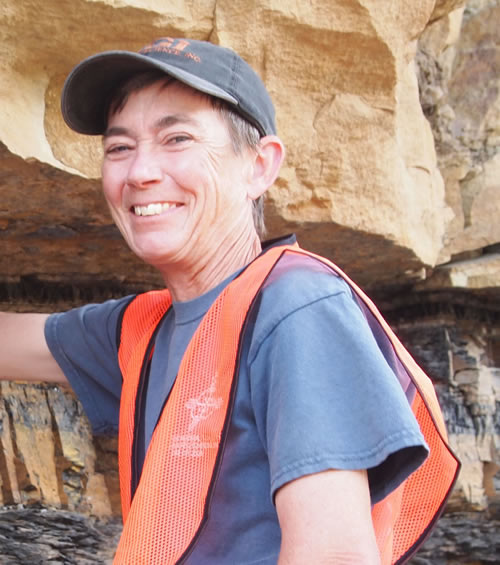 Sr. Geophysicist, Field Geologist
New Mexico Bureau of Geology & Mineral Resources
New Mexico Institute of Mining & Technology
801 Leroy Place
Socorro NM 87801-4796
575-835-5306
(575) 835-6333 fax
Throughout my career, I have had the opportunity to participate in many diverse geoscientific projects. I have been engaged in geothermal research and geologic mapping since the early stages of my career. During graduate school, I became interested in low-temperature thermochronology and I was active in that field for 25 years. More recently, I have been learning how to collect and interpret magnetotelluric (MT) and transient electromagnetic (TEM) data. These data are useful in locating brackish water and geothermal resources. Although my career has been somewhat nonlinear, it has been fun.
(See Curriculum Vitae)
Education
Research Interests
Building and maintaining New Mexico's part of the National Geothermal Database
Promoting geothermal development in New Mexico
Exploring for geothermal resources using thermal and electromagnetic methods
Application of apatite fission-track thermochronology to tectonic and landscape evolution problems in the High Plains-Rio Grande rift-Rocky Mountain-Colorado Plateau region.
Using geologic mapping to constrain the tectonic and landscape evolution of the volcanic fields and and mountain ranges across the state.
Honors & Awards
Sigma Gamma Epsilon Tarr Award, 1979
Roy M. Huffington Fellowship, 1982-1983
New Mexico Geological Society Honorary Membership, 2010
New Mexico State University Geological Sciences Alumni Hall of Fame, 2011
Geological Society of America Fellow, 2013
Professional & Other Organizations
Geothermal Resources Council, Secretary-Treasurer, DFW Section, 1984-85
President, Los Alamos Geological Society, 1998-2000.
New Mexico Geological Society, Executive Committee, 2006-2009.
President, New Mexico Geological Society, 2008.
Chair, Rocky Mountain Section, Geological Society of America, 2010-2012.
National Renewable Energy Laboratory Energy Executive Leadership Program Alumni, 2015