Dr. Lewis Land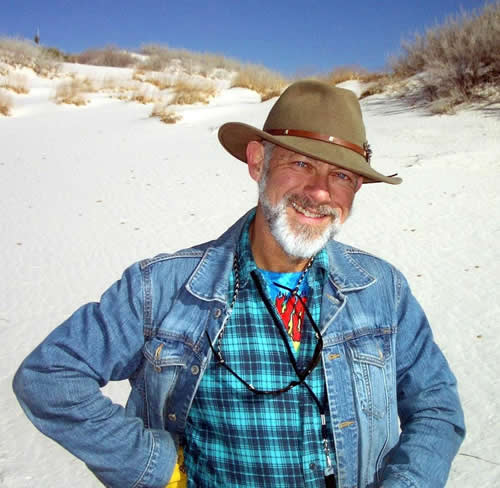 Karst Hydrogeologist
New Mexico Bureau of Geology & Mineral Resources — Albuquerque Office
1015 Tijeras Avenue NW, Suite 200
Albuquerque NM 87102-2909
575-887-5508
I work for the National Cave and Karst Research Institute in Carlsbad, New Mexico, and as the Institute's liason and adjunct with the New Mexico Bureau of Geology and Mineral Resources. I am also an adjunct faculty member with the New Mexico Tech Department of Earth and Environmental Sciences. My work at the Institute involves conducting regional investigations of karstic limestone aquifers that are the principal or sole source of water for irrigation and municipal water supply in the lower Pecos region of southeastern New Mexico. I also serve as the Institute's karst geophysicist and in that capacity have conducted electrical resistivity surveys of sinkholes and other karstic geohazards, both naturally occurring and of human origin.
Education
Ph.D., Geology, 1999, University of North Carolina at Chapel Hill. C.K. Paull, advisor.
Dissertation: "Processes & Manifestations of Fluid Exchange within Passive Continental Margins"

My doctoral research included submersible investigations of submarine sinkholes in the Straits of Florida, and their relation with submarine groundwater discharge from the Floridan Aquifer.

M.S., Geology, 1993, University of Oklahoma. D.W. Stearns, advisor.
Thesis: "3-D Characterization of Basement Faults & Forced Folds, NE Uncompahgre Plateau, Western Colorado"

For my MS research, I conducted field investigations and physical modeling of basement faults and monoclinal folds exposed at Colorado National Monument along the southeast flank of the Uncompahgre Plateau near Grand Junction, Colorado.

B.S., Geology, 1981, University of Oklahoma
Experience
2002-present: Cave and Karst Hydrologist: National Cave and Karst Research Institute and New Mexico Bureau of Geology and Mineral Resources, Carlsbad, NM
2000-2002: Hydrogeologist, Ground Water Branch: North Carolina Division of Water Resources, Raleigh, NC
1998: Summer intern, West Africa Group, offshore Angola: Exxon Exploration Co, Houston, TX
1997: Staff geologist, Low-Level Radioactive Waste Disposal Project: Harding-Lawson Assoc., Morrisville, NC
1991: Summer intern, New Ventures Group, North Africa: Exxon Co. International, Houston, TX
1982-1989: Exploration Geologist, Mid-Continent, Rocky Mountain regions: Oxy USA (Cities Service Oil Co.), Oklahoma City, OK
Research Interests
Karst hydrology, geomorphology and geohazards
Patterns of regional groundwater circulation
Brackish water resources
Hydrogeophysics
Freshwater-saline water relationships in coastal aquifers and intermontane basins.
Professional Organizations
American Association of Petroleum Geologists (AAPG)
American Geophysical Union (AGU)
Geological Society of America (GSA)
National Groundwater Association (NGWA)
New Mexico Geological Society
Roswell Geological Society
Sigma Xi