Mark Leo-Russell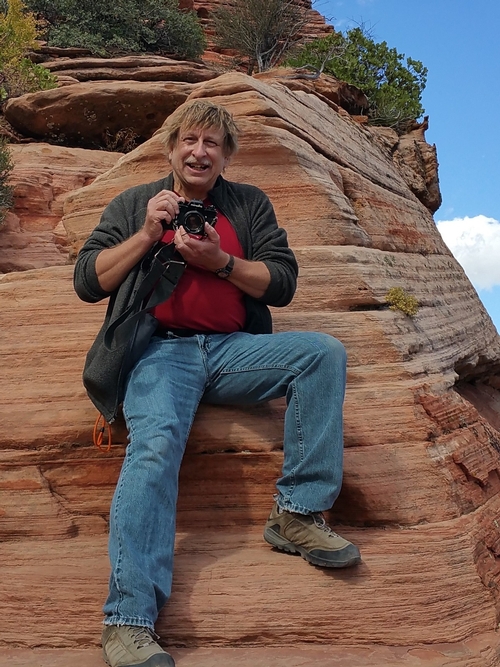 Database Administrator
New Mexico Bureau of Geology & Mineral Resources
New Mexico Institute of Mining & Technology
801 Leroy Place
Socorro NM 87801-4796
575-835-5154
(575) 835-6333 fax
I recently rejoined the Bureau of Geology as the Database Administrator where I am doing a variety of database, data management, web development, and GIS projects. While attending NM Tech I was the Student Curator at the Bureau's Mineral Museum for 2+ years so taking this DBA position is a bit of a home coming for me.
I received a B.S. in Geology from NM Tech. After college I held a variety of programmer, systems administrator, analyst, GIS, web development, technical training, and management positions. I spent time working as a contractor for the US Dept of Defense at Kirtland AFB, and with the Indian Health Service In Albuquerque. Most recently, for 13 years I worked for the Albuquerque Public School District where I was a Systems Analyst, QA Manager, Director of Database Architecture, and Interim Director of Technology Client Services.
Throughout much of that time I attended the University of New Mexico where I took post-bachelors and graduate classes in Geology, Geography, Computer Engineering, Mathematics, and Organizational Learning (OLIT).
Although I have formally been away from Geology and Earth Science for many years, I've kept my hand in traveling extensively throughout the southwest US--hiking, exploring, studying, and photographing most of the National Parks and many other monuments and state parks. Several years ago I had the privilege of co-piloting a Cessna flight over the erupting Pu'u O'o Vent, part of the East Rift Zone of Kilauea Volcano on the Big Island of Hawaii.
Education & Training
Academic
Bachelor of Science (BS) Geology. New Mexico Institute of Mining and Technology, Socorro, New Mexico.
Non-degree program: post-bachelors undergraduate and graduate courses in Organizational Leadership and Instructional Technologies (OLIT), Geography, Geology, Electrical and Computer Engineering, Computer Science, and Mathematics. University of New Mexico (UNM), Albuquerque, New Mexico.
Professional
Spatial Data Science: The New Frontier in Analytics. ESRI GIS training MOOC course, Apr 2020.
Do-It-Yourself Geo Apps. ESRI GIS training MOOC course, Nov 2019.
Going Places With Spatial Analysis. ESRI GIS training MOOC course, Oct 2019.
Certified Adobe ColdFusion Specialist. Adobe CFSummit, Las Vegas NV, Sep 30 2019.
Using Angular and ColdFusion CFML Workshop. Adobe CFSummit, Las Vegas NV, Oct 2018.
Cartography. ESRI GIS training MOOC course, Jun 2018.
The Location Advantage. ESRI GIS training MOOC course, Jun 2018.
Earth Imagery at Work. ESRI GIS training MOOC course, Mar 2018.
MVC Framework with Framework/1 (FW/1) Workshop. Adobe CFSummit, Las Vegas NV, Nov 2017.
Web Applications Security Workshop. Adobe CFSummit, Las Vegas NV, Oct 2016.
ITIL Foundations. Rio Rancho Public Schools, Rio Rancho NM, Jun 2016.
Automating Administration With Windows PowerShell. Global Knowledge, Jul 2012.
Spatial Analysis and GIS. Pre-conference Seminar, ESRI User Conference, San Diego CA, Jun 2000.
Introduction to Fuzzy Logic and Applications in GIS. Pre-conference Seminar, ESRI User Conference, San Diego CA, Jun 2000.
Fast Track to ColdFusion. Allaire, Albuquerque NM, Mar 2000.
Certified Internet Webmaster Course: JavaScript Fundamentals. New Horizons Computer Learning Center, Albuquerque NM, Apr 1999.
Certified Technical Trainer - Microsoft Train the Trainer. Franklin College, Albuquerque NM, Jul 1998.
Technical Skills & Experience
Experience with numerous versions of MS Windows, Unix and Linux.
Database systems including MS SQL Server, Oracle, MariaDB/MySQL and Access. Extensive experience designing data models, writing queries, performing ETL processing, and data analysis using SQL, especially T-SQL and PL/SQL.
Versed in web technologies such as ColdFusion/CFML, HTML, CSS, JavaScript and jQuery as well as many Content Management, Instructional Management and Learning Management Systems (CMS/IMS/LMS).
Experience with Geographic Information Systems (GIS) including ESRI ArcGIS, ArcGIS Online, StoryMaps, ArcView, Arc/Info, ArcExplorer, ArcView Internet Map Server, and RouteMap Internet Map Server. Additional experience with QGIS, Trimble Navigation and Delorme GPS.
Extensive background in "soup-to-nuts" applications development, especially web-based applications including back-end database design and implementation, middle-ware code development, user interface design, usability and accessibility testing, and post deployment management and support.
Memberships
New Mexico Geological Society
Projects
Deployment and support of Bureau's Photo Archive website using Resource Space open-source digital asset management system (PHP with MySQL back-end database).
Redesigning and reengineering various Access-based data collection systems used throughout the Bureau to web-based applications with SQL Server back-end databases.
Automating various data handling processes for numerous Bureau databases including NM Maps, NM Wells, GIS Data and Aquifers.