Dr. Matthew Zimmerer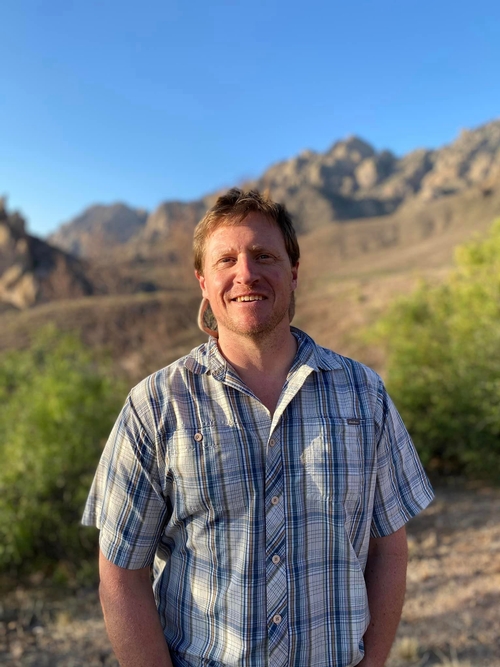 Field Geologist II
New Mexico Bureau of Geology & Mineral Resources
New Mexico Institute of Mining & Technology
801 Leroy Place
Socorro NM 87801-4796
575-835-5114
(575) 835-6333 fax
My primary research interests include using geochronology, geochemistry, and field- based methods to understand volcanism in the southwestern United States. Most recently, I am applying the 40Ar/39Ar and U/Pb dating techniques to develop a comprehensive, accurate, and precise geochronology of Quaternary eruptions in New Mexico with the ultimate goal of assessing the volcanic hazards throughout the region. I have several ongoing studies related to mid-Tertiary volcanism and magmatism throughout New Mexico and Colorado that focus on topics such as the timing of precaldera volcanism with respect to caldera-forming eruptions, linked between the volcanic and plutonic records, and the timing of mineralization during magmatic flare-up. I am also interested in using the volcanic record to constrain landscape evolution in the southwest. I am currently developing and implementing the use of small unmanned aircraft systems for geologic mapping and monitoring changing landscapes.
In addition to an active research program, I participate in a variety of outreach and teaching opportunities. From time to time I participate as an instructor for the highly successful "Rockin' Around New Mexico" workshop for K-12 teachers. I co-instruct the New Mexico Tech Field Camp based out of the northern New Mexico. I regularly give lectures for professionals and the general public. Finally, I enjoy combining my passion of photography and general interest writing to assist with bureau publications and outreach projects, such as the Southern Parks Book and The Rio Chama guidebook.
(See Curriculum Vitae)
Education
Projects
Age-based assessment of volcanic hazards in New Mexico
Timescales of magmatism in the Southern Rocky Mountain and Mogollon-Datil volcanic fields
Landscape evolution of the southwest using volcanic eruptoins and geochronology
Geologic mapping of volcanic and magmatic systems in NM
Volcanic and ice-sheet evolution of West Antarctica
Assessing landscape changes with repeat drone photogrammetry.