Scenic Trips to the Geologic Past # 10
Southwestern New Mexico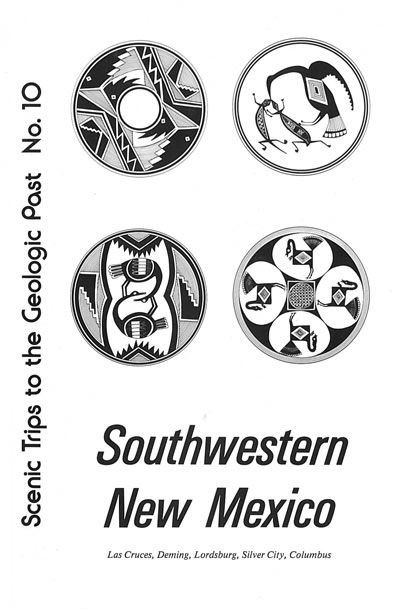 By R. E. Clemons, P. W. Christiansen, and H. L. James, (2nd edition), 1971, reprinted and revised 1979, 1980, 119 pp., 1 table, 141 figs.
Includes five road logs that discuss the geology, mining operations, history, and scenic attractions of the area. The first "tourist" to travel what now is the continental United States crossed Southwestern New Mexico. The wanderings of Alvar Nuñez Cabeza de Vaca were responsible for the first descriptions of this area which since has produced mineral wealth and rich farming area. Includes three side trips. Southwest New Mexico's geology, history, diverse cultural heritage, and economics have a common interest in the mining districts featured in several of the trips through this area. Large mines operating today were known to the Apache Indians hundreds of years ago and were worked by the Spanish in the early 19th century. The first road log from Las Cruces to the Arizona State line via I-10 parallels the Butterfield Trail, an overland mail route to California, along which stage coaches made twice-weekly runs. Rock collectors should stop at Rock Hound State Park, where rock collecting is encouraged. Trip two, from Deming to Lordsburg, meanders northward along the Mimbres River. This is an area of famous mining districts-Santa Rita, Hanover, Pinos Altos, Silver City, Tyrone, and Gold Hill. Trip three, from Silver City, takes the traveler into the Gila National Forest and Wilderness, the first wilderness area established in the U.S. It offers many hiking trails, campgrounds, hot springs, and Gila Cliff Dwellings National Monument. A final road log connects Deming with the Mexican border. Incorporates Scenic Trip 5, which is now out of print.
Incorporates Scenic Trip 5