Scenic Trips to the Geologic Past # 17
Albuquerque Downtown From a Geologic Point of View—A Walking Tour of the City Center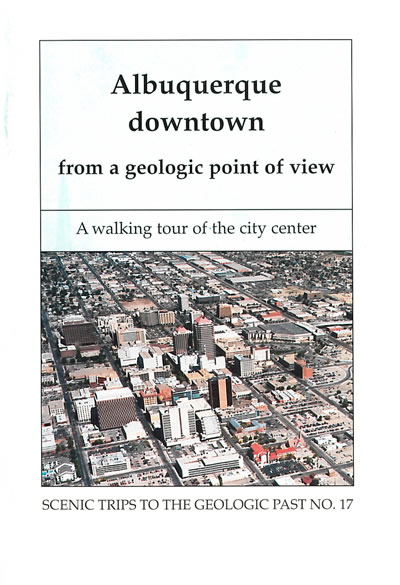 By G. S. Austin, 1998, 60 pp., 5 figures, 48 photographs in color.
Old Town Albuquerque was founded in 1706. New Town Albuquerque, site of present-day downtown Albuquerque, was founded in 1880 when the Santa Fe Railroad arrived. Poor drainage and the threat of flooding near the old villa were major reasons for locating New Town almost two miles east of Old Town. Profit-minded land speculators provided other reasons. New Town was laid out on a systematic grid. After its first temporary buildings of adobe and wood, structures began to be built with sturdier-appearing facades reflecting styles and materials imported from the East and Midwest. The buildings of New Town clearly reflect anglo tastes in contrast to the largely Spanish Colonial characteristics of Old Town. After the railroad arrived and the city became richer, buildings-particularly in the downtown area-were built of stone or brick or both. At that time, the stone and brick served as the structural or load-bearing part of the building as well as the exterior and perhaps the interior fac- ing. As cement became the low-cost preferred building material in the 1900s, more buildings were built of concrete and/or metal skeletons, many with stone or brick veneers. This three-quarter-mile walking tour examines the materials used in the buildings of downtown Albuquerque within this historical context. The con- struction materials (stone, brick, and concrete) are described by their source and building style. A small, illustrated section is devoted to quarrying, finishing, and mounting dimension stone. The historical changes in architecture combine classical with modern styles to provide startling contrasts. The many colorful photographs are accompanied by detailed descriptions of the stone and other materials used in the buildings to provide a beautiful, entertaining, and informative look at Albuquerque downtown.