Scenic Trips to the Geologic Past #18
Albuquerque: A guide to Its Geology and Culture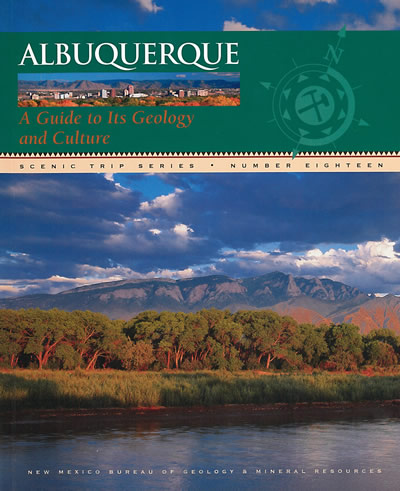 By Paul W. Bauer, Richard P. Lozinsky, Carol J. Condie, and L. Greer Price, 2003.
Nestled between the banks of the Rio Grande and the Sandia Mountains of northern New Mexico, the city of Albuquerque has a rich geologic and cultural history. Number 18 in the popular Scenic Trip series, this guide provides a regional overview and includes six detailed road trips throughout the Albuquerque area north to Cerrillos and south to Los Lunas that offer a more in-depth look at local geologic and cultural features. Richly illustrated with rarely seen historic photos including the first geologic map of New Mexico from 1858 by geologist Jules Marcou, plus over 100 full color images, maps, and illustrations. Fully indexed, with glossary, 192 pages.