Valles Caldera bandana (Cream)
The New Mexico Bureau of Geology and Mineral Resources staff are closely following the recommendations of New Mexico Governor Lujan-Grisham during the COVID-19 crisis. We are currently mostly working from home, and our facilities will be closed to outside visitors until further notice. Our staff members can still be reached by email and phone as many have forwarded their office phones to personal phones. We are still accepting on-line orders for publications, but we are currently shipping orders out once a week so please expect longer delivery times. Also, note that most of our technical publications are available for free download.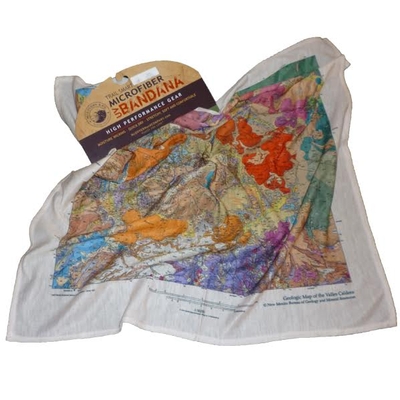 Fraser Goff, Jamie N. Gardner, Steven L. Reneau, Shari A. Kelley, Kirt A. Kempter, and John R. Lawrence, 2011
This Trailsmart TM bandana version of our Geologic Map of the Valles Caldera could be a big help in understanding the geology of the Valles Caldera on your next field trip. This 22 x 22" soft microfiber bandana map is colorfast, moisture wicking, and provides UV protection.
,