GM-35—Geologic map and sections of south half San Diego Mountain Quadrangle, New Mexico
By W. R. Seager, 1975, lat 32°30', long 107°00', text, scale 1:24,000.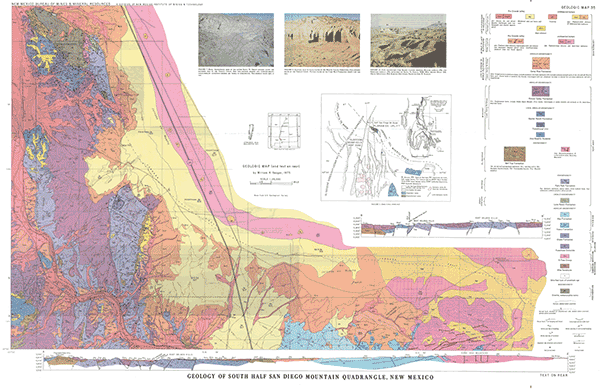 The San Diego Mountain 15-minute quadrangle is located about 15 miles north of Las Cruces in Doña Ana County, New Mexico. The northern half of the quadrangle is covered primarily by caliche and blow sand that form the surface of the Jornada del Muerto desert. A discussion of the Jornada del Muerto surface and its associated deposits was beyond the scope of this study, hence omitted from this report. Although large areas of the southern half of the quadrangle are also part of the Jornada del Muerto, entrenchment of the Rio Grande along the southwestern border has resulted in extensive exposures of older rocks ranging in age from Precambrian to Holocene. These rocks are significant to an understanding of the Tertiary structural and volcanic history of the region, and to the Pleistocene and Holocene evolution of the present landscape.

Also available as a free download.