GM-51—Geology of Massacre Peak quadrangle, Luna County, New Mexico
By R. E. Clemons, 1982, lat 32°22'30" to 32°30', long 107°37'30" to 107°45', 1 sheet with text, scale 1:24,000.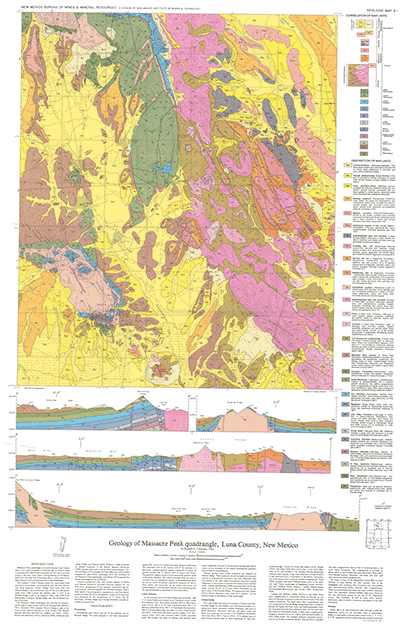 The southern Cooke's Range crosses this quadrangle in north-central Luna County from northwest to southeast.
Massacre Peak quadrangle is in north-central Luna country about 8 mi north-northeast of Deming. Gravel roads connecting with NM-26 and maintained by the county provide access to the area. The Cooke's Spring Station of the Butterfield Trail was near Fort Cummings about a mile south of the Hyatt Ranch in the northeastern part of the quadrangle.
The southern Cooke's Range crosses the quadrangle from northwest to southeast, covering about half the area. Starvation Draw separates Cooke's Range from Pony Hills and Fluorite Ridge in the southwestern part of the area. Elevations range from 4,560 ft along the southern edge to 5,655 ft on Fluorite Ridge, 5,667 ft on Massacre Peak, and 6,780 ft on Rattlesnake (formerly Sarten) Ridge near the northwest corner of the map.
Download
Sorry, downloads are not enabled for this publication. Contact us for more information.