RM- 15 — Silver and gold occurrences in New Mexico
by Robert M. North and Virginia T. McLemore, 1986, 32pp., 3 tables, 6 illustrations, and 1 oversize map, scale: 1:1,000,000.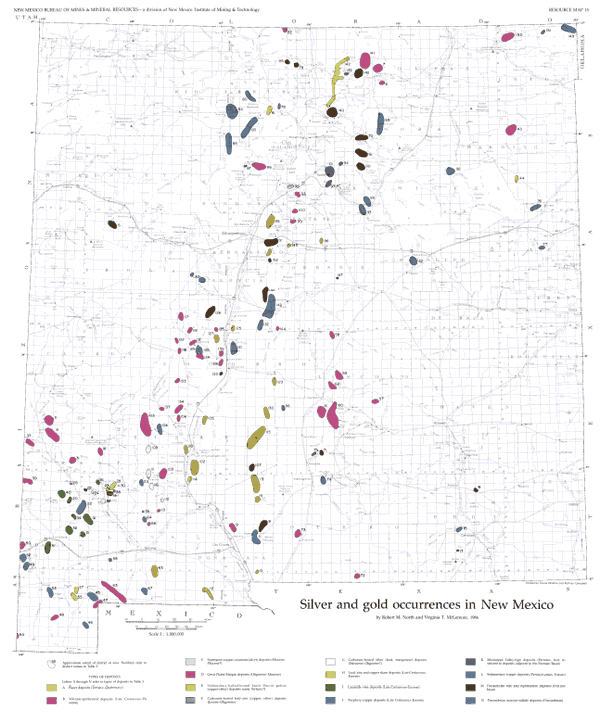 Anomalous amounts of silver and/or gold have been identified in 153 mining districts or prospect areas of New Mexico. Production from most of these occurrences has been small; figures or estimates are given when known. Thirty-five districts have produced in excess of 10,000 troy ounces of gold or 200,000 ounces of silver.
Silver and gold in New Mexico occur in 14 distinct types of deposits ranging in age from Precambrian (Proterozoic) to Recent. Mid-Tertiary to Recent deposits include the placer, volcanic-epithermal, supergene copper-uranium (silver), and Great Plains Margin types. Late Cretaceous to mid-Tertiary deposits include the sedimentary-hydrothermal barite-fluorite-galena, carbonate-hosted silver (lead-manganese), lead-zinc and copper skarn, Laramide vein, and prophyry-copper types. Late Paleozoic to early Mesozoic deposits include the sedimentary-copper type and possibly some of the Permian Mississippi Valley type. Precambrian deposits include the vein and replacement and Precambrian massive-sulfide types. Deposits that have produced significant silver and/or gold as the primary product are the placer, volcanic-epithermal, Great Plains Margin, carbonate-hosted silver, and Laramide vein types. Deposits that have produced significant precious metals as a byproduct of basemetal mining include the carbonate-hosted lead-zinc, copper skarn, and porphyry-copper types.
Note: This map was superseded by RM-21: Silver and Gold in New Mexico.

CD or DVD-ROM format
superseded by RM-21
This publication is out-of-print. It is available on CD or DVD-ROM.
Also available as a free download.