RM-19—Distribution of near-surface coal deposits in the San Juan Basin, New Mexico
By E. C. Beaumont, 1998, 2 sheets, scale 1:250,000.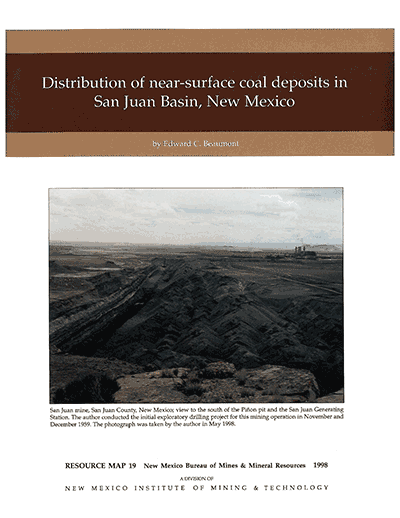 RM-19 shows the distribution of seven major regressive and transgressive Cretaceous coal-bearing geologic units with surface-mining potential: the Dilco and Gibson Coal Members of the Crevasse Canyon Formation, the undivided Gibson Coal Member and Cleary Coal Member of the Menefee Formation, the undivided Cleary Coal and lower coal members of the Menefee Formation, the upper coal member of the Menefee Formation, the undivided Mesaverde group, and the Fruitland Formation. The maps show the formational croplines and the approximate position of the 200-ft cover line. The writer began geologic mapping of the Upper Cretaceous rocks in northwestern New Mexico in 1948 as an employee of the U. S. Geological Survey. In text on the back of sheet 1 he recounts early USGS investigations into the area, describes depositional sequences, evaluates the potential of individual coal-bearing units, reviews the history of coal mining in the San Juan Basin, and closes with a candid discussion of the factors influencing the future of San Juan Basin's coal-mining industry. Supplementing the geologic map and text are a diagrammatic cross section, 36 years of coal prices, extensive references and tables summarizing coal production (1961-1996) and individual mine statistics. RM-19 is an important addition to the library of anyone involved in the coal industry, power generation, energy resources, or San Juan Basin Cretaceous geology.

Also available as a free download.