Bulletin 138—Geology and paleontology of the Kinney Brick Quarry, Late Pennsylvanian, central New Mexico
Edited by J. Zidek, 1992, 242 pp, 5 tables, 209 figs., 2 appendices.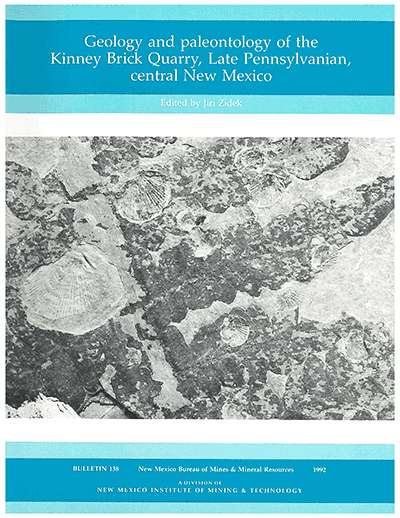 Companion to Bulletin 137. The title of this volume is that of a Geological Society of America/Paleontological Society symposium held on 22nd April 1991 at the annual meeting of GSA Rocky Mountain/South-Central Sections in Albuquerque, with the Rocky Mountain Section of the Paleontological Society participating.
The late Charles Read (U.S. Geological Survey) declared as long ago as 1967 that the Kinney Quarry is "one of the most remarkable fossil localities in the country," and "if properly developed, it may become one of the classic localities for upper Paleozoic organisms in the world." Regrettably, it took paleontologists, biostratigraphers, and sedimentologists 23 more years to get together and undertake a multidisciplinary study of the site. Today, 24 years later, it is clear that Read was not exaggerating but, in a sense, actually underestimated the significance of this locality. The diverse floral and faunal assemblages, of course, are important because they provide much new information, some of it taxonomically, paleoecologically, and bio-stratigraphically quite surprising, and some of the taxa are so abundant and well preserved that they are very amenable to various paleobiologically oriented studies. Equally important, however, is the abnormally thick clastic section of paralic facies exposed in the quarry, which provides an excellent opportunity for detailed sedimentological analysis. It is the combination of exceptionally well-preserved fossil and rock records rather than the fossils alone that makes the site unique.
Twenty-three papers contributed by symposium participants describe the richness and diversity of this site, one of the most important Lagerstätten of Pennsylvanian age. This volume covers most aspects of geology and paleontology of the Kinney Quarry. It does not include malacostracans and eurypterids, because accounts of these groups are available elsewhere, and geochemistry and petrology s.s. because specialists in these disciplines were not available in the required time frame. Authors who supplied articles for this bulletin are: H. P. Schultze, C. G. Maples, A. P. Hunt, S. G. Lucas, D. S. Berman, D. Bardack, M. D. Gottfried, P. Huber, J. Zidek, B. S. Kues, J. C. Lorenz, G. A. Smith, H. R. Feldman, A. W. Archer, R. R. West, G. R. Clark II, D. A. Willard, S. H. Mamay, D. R. Boardman II, G. Mapes, R. H. Mapes, J. T. Hannibal, H. Kozur, K. K. Kietzke, R. L. Kaesler, W. A. Shear, J. Kukalova-Peck, and S. T. Krukowski. Companion to Bulletin 137.

Also available as a free download.
Download
File Name
Size
Last Modified
B138.pdf
27.57

MB

08/17/2018 01:36:14 PM