Bulletin 154—Proceedings of the 31st forum on the geology of industrial minerals—The Borderland Forum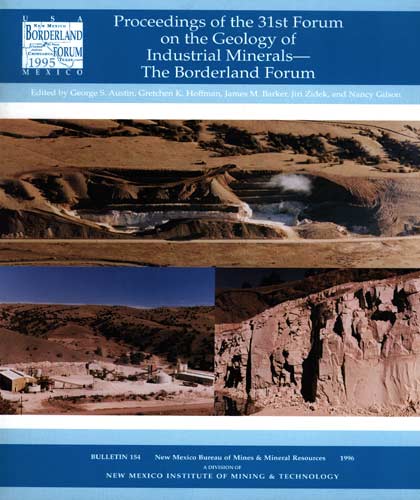 Edited by G. S. Austin, G. K. Hoffman, J. M. Barker, J. Zidek, and N. Gilson, 1996, 330 pp, 104 tables, 216 figs., 2 appendices.
This volume includes 28 papers and 12 abstracts presented at the 31st annual meeting of the Forum on the Geology of Industrial Minerals held in El Paso, Texas, April 23-28, 1995. Five additional papers in this volume were not presented in El Paso but came from a session on industrial minerals in NM at the 1994 annual meeting of the Society of Mining, Metallurgy, and Exploration (SME) held in Albuquerque. The key article in this bulletin is Industrial minerals and rocks of the tri-state border region by K. F. Clark. These 33 illustrated papers offer a comprehensive survey of the industrial minerals of the U.S.-Mexico border region: clay, garnets, humate, limestone, mica, nepheline syenite, perlite, potash, pumice, travertine, and zeolites, to name a few. Papers are abstracted in English and Spanish. This bulletin includes articles on materials in Mexico TX, NM, GA, IN, and AR. Other countries discussed are Chile, Tanzania, and the Nova Scotia area. Some general topics discussed are cat litter, garment wet-processing, brick tunnel-kiln thermal-energy inputs, refractory dolomite, ISO 900 and geology reserve management, and teacher workshops. The first appendix holds the abstracts of the presentations. The second appendix is a list of the professional registrants.

Also available as a free download.
Download
File Name
Size
Last Modified
B154.pdf
41.20

MB

01/15/2021 01:36:59 PM