Bulletin-162 Lifetime Projections for the High Plains Aquifer in East-central New Mexico
By Geoffrey C. Rawling and Alex J. Rinehart, 2018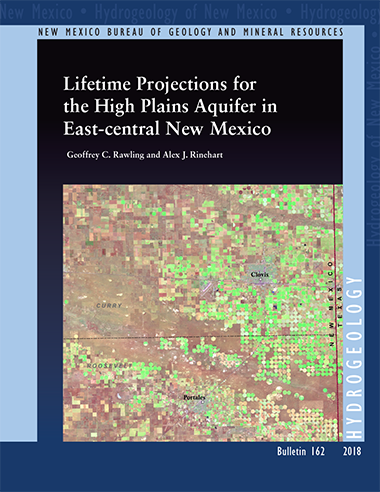 East-central New Mexico is dependent on groundwater from the High Plains aquifer for agricultural, municipal, industrial, and domestic uses. Ongoing declines of water levels in the High Plains aquifer are well-known and have led residents and decision-makers to speculate on the usable life of the aquifer. This Bulletin presents aquifer lifetime projections for eastcentral New Mexico based on projecting historical water-level trends into the future using over 1,500 wells. Projections for the useful lifetime of the aquifer for agricultural and municipal/domestic-use scenarios are described. Several quantitative measures of the reliability of the results are presented. The results are stark, with projected usable lifetimes in many areas only ten years or less. Much of the region already has insufficient saturated thickness for the operation of large-capacity irrigation wells.
Supplemental Data available from our Data Repository:
https://geoinfo.nmt.edu/repository/index.cfml?rid=20180002

CD or DVD-ROM format
Supersedes OFR-591

Also available as a free download.
Download
File Name
Size
Last Modified
B-162.pdf
13.07

MB

01/15/2021 03:25:51 PM