Dr. Maureen Wilks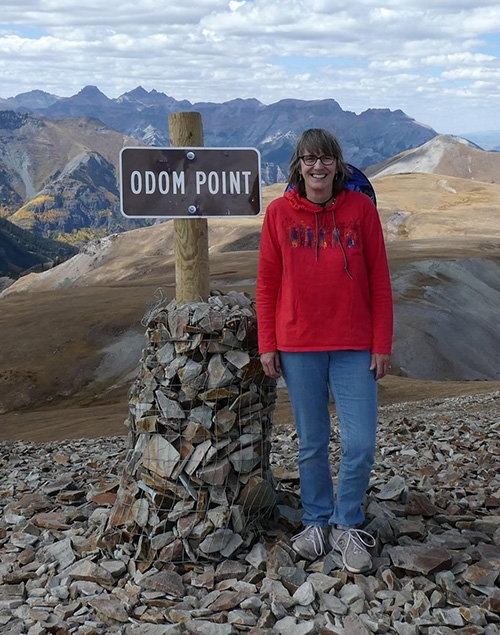 Emeritus - Sr. Geologist/Head of Archives & Collections
New Mexico Bureau of Geology & Mineral Resources
New Mexico Institute of Mining & Technology
801 Leroy Place
Socorro NM 87801-4796
(575) 835-6333 fax
Maureen Wilks is an Emeritus Senior Geologist at the bureau where she oversaw the Geological Information Center, which includes a library on the geology of New Mexico, historical mining documents, maps and reports, and a historical photograph collection of over 6000 images related primarily to mining.
Maureen arrived in New Mexico from Great Britain in 1987 to pursue a Ph.D in geochemistry at New Mexico Tech. In 1995 she started to work part-time at the Bureau to begin to convert their paper collections into more accessible digital datasets. In her other part time position she is an artist and writer. In 2000 she collaborated with photographer Thomas Wiewandt in writing the text for award winning The Southwest Inside Out: An illustrated guide to the land and its history. When not working she is out hiking in the desert, or scrambling over the mountains of the Southwest . In the hot summer months she likes to rescue snakes from highways and neighbors backyards. She also chases after flash floods and photographs, lizards, toads, insects, wild flowers and wild weather. Since 2001 she has been working with her digital photographs of wildlife and wildflowers transforming them into fine art pieces.
Education
1991: New Mexico Tech , Ph.D., Geochemistry. Dissertation: The Petrology and petrogenesis of Late Archean K-rich granites in the Archean Wyoming Province, U.S.A.
1986: University of Saskatchewan , M.S., Geology. Thesis: The Geology of the Steep Rock Group, N. W. Ontario: A major Archaean inconformity and Archaean stromatolites
1982: Oxford University , B.A., Geology
Work History
1995 - present: New Mexico Bureau of Geology and Mineral Resources
1994: Research Associate and Instructor, New Mexico Tech
1991-1993: Postdoctoral Associate and Instructor, New Mexico Tech
1987-1990: Teaching Assistant, New Mexico Tech
1986-1987: Research Assistant, University of Strathclyde, Glasgow, Scotland
1983-1985: Teaching Assistant, University of Saskatchewan, Saskatoon, Canada
Professional Affiliations
Professional Activities
Editorial Board of Lite Geology 2012-Present
NMGS Publications Chair 2002-2009
NMGS Executive Committee Member 2000 Treasurer; 2001 Vice President; 2002 President; 2003 & 2005 Past President
2001, 2004-2006 Registration Co-Chair NMGS Fall Field Conference
1996 General Co-Chair NMGS Spring Meeting
1995 Registration Chair Spring & Fall Meetings, New Mexico Geological Society (NMGS)
Grants and Awards
2011 OSM (Office of Surface Mining) San Juan Basin Mine Map Initiative
2009 OSM (Office of Surface Mining) Gallup Mine Map Initiative.
2006-2007 New Mexico Geological Society grant to create webpages of the Table of Contents and routes of all 57 NMGS Fall Field Conference Guidebooks
2006 OSM (Office of Surface Mining) Continuation of Mine Map Initiative.
2006 Honorary Member of the New Mexico Geological Society
2004 MSHA (Mine Safety Health Adminisstration) Mine Map Initiative Award to catalogue scan, and georeference historic coal mine maps in New Mexico
WERC (Waste Management Environmental Research Consortium) award for study on NORM (naturally occurring radioactive materials) in the oil fields of New Mexico: 1991-1993
Geological Society of America Research Grant (1988, 1989). Richard A. Matuzeski Graduate Scholarship (1988, 1989); American Association of Business Women Scholarship (1989); J.D. Love Wyoming Geological Society Scholarship (1989); Association for Women GEoscientists Award, Denver Chapter (1989). The Robert Wellnitz Scholarship (New Mexico Geological Scoiety, 1989).