2009 Earth Science Achievement Awards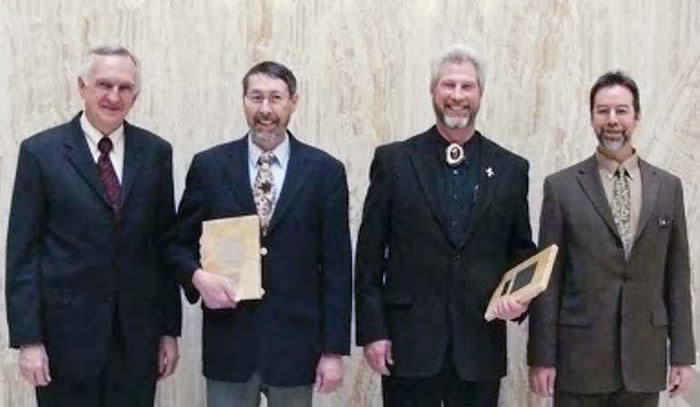 On January 29 of this year the 2009 New Mexico Earth Science Achievement Awards were presented to Ron Gardiner, for outstanding contributions advancing the role of earth science in areas of public service and public policy in New Mexico, and to James C. Witcher, for outstanding contributions in advancing earth science and education in New Mexico. These awards, co-sponsored by the New Mexico Bureau of Geology and Mineral Resources (NMBGMR), a division of New Mexico Tech in Socorro,, and the Energy, Minerals and Natural Resources Department (EMNRD) in Santa Fe, were initiated in 2003 to honor those often unrecognized champions of earth science issues vital to the future of New Mexico. Selections were made following a statewide nomination process.
The presentation occurred at noon in the rotunda of the state capitol building on Thursday, January 29, during the legislative session in conjunction with Earth Science Day. The presentations were made by Reese Fullerton, acting for Joanna Prukop, cabinet secretary of the New Mexico Energy, Minerals and Natural Resources Department, and Dr. Paul Bauer, associate director of the New Mexico Bureau of Geology and Mineral Resources.
Public Policy & Service
Ron Gardiner's wide-ranging career in water policy includes watershed planning and management. In New Mexico Ron has worked as a federal field technician in watershed monitoring and management for more than a decade. As a water and natural resources consultant Ron has worked at every level of community water and watershed planning in the Taos region, serving as a public advocate through consulting, writing, and public presentations. As a staff member at the New Mexico State Legislature, Ron's experience on critical water and energy resource committees has been key in helping to support policy-making decisions. For the past decade Ron has persuasively argued for more independent science and technology to support the policy and administration of water and natural resources in New Mexico.
Research & Education
James Witcher is widely recognized as the pre-eminent researcher on geothermal energy in New Mexico. He has thirty years of professional experience in geothermal exploration and development. He is particularly well known for his work on practical applications of geothermal energy, in particular the low-temperature geothermal resources that offer some promise here in New Mexico. He is also known for his understanding of the limitations of geothermal development in a state where water resources are scarce. For most of the last two decades he was on the staff of the Southwest Technology Development Institute at New Mexico State University. Since 2003 he has worked throughout the state as a private consultant, specializing in the exploration and development of geothermal energy and ground water.
The New Mexico Bureau of Geology and Mineral Resources is a non-regulatory research and service division of the New Mexico Institute of Mining and Technology in Socorro that has served as the geological survey for the state of New Mexico since 1927. EMNRD provides resource protection, recreation, and resource development services to the public and other state agencies.
---
Nominations for next year's awards are welcome from the general public.