2015 Earth Science Achievement Awards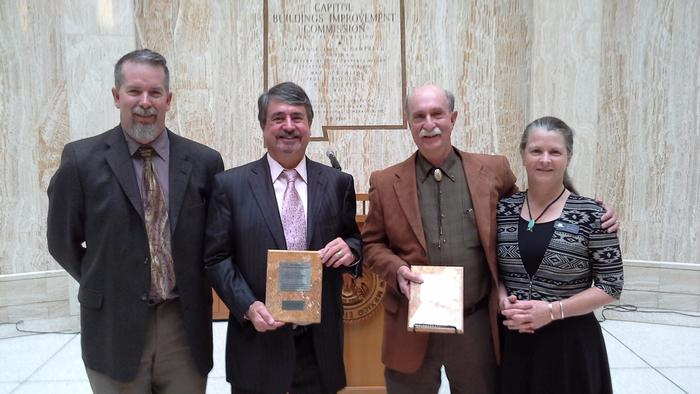 The 2015 New Mexico Earth Science Achievement Awards were presented to Charles Nylander for "outstanding contributions advancing the role of earth science in areas of public service and public policy", and to Dr. Fraser Goff for "outstanding contributions advancing the role of earth science in areas of applied science and education". These awards, sponsored by the New Mexico Bureau of Geology and Mineral Resources, a division of New Mexico Tech, were initiated in 2003 to honor those often unrecognized champions of earth science issues vital to the future of New Mexico.
The awards were presented in the rotunda of the state capitol building on Thursday, February 19, in conjunction with Earth Science Day. In addition to the Bureau of Geology and Mineral Resources, several other agencies staffed tables and displays in the west wing of the Roundhouse.
Public Policy & Service
Charles Nylander has more than 40 years of technical and management experience in water resources management. He retired from Los Alamos National Laboratory (LANL), where he served as a manager and environmental scientist from 1985 to 2006. He oversaw and completed a multimillion dollar Hydrogeologic Characterization Project for the national lab, managed LANL's NPDES permit and established the Water Research Technical Assistance Office in Santa Fe. Prior to his work at LANL, he was employed as manager and environmental scientist at the New Mexico Environment Dept. from 1973-1985. Charles continues his volunteer advocacy and science leadership in water policy in New Mexico by serving on multiple boards, committees, and commissions. He is currently the President of Watermatters, LLC, providing water resource consulting services since 2006.
Research & Education
Dr. Fraser Goff has worked on geological research in New Mexico, and around the world, for the past 37 years. He retired from Los Alamos National Laboratory in 2004, after 27 years of service, and in retirement, has remained tremendously active as a geological and geochemical consultant, as well as adjunct faculty at New Mexico Tech, and UNM. Fraser has worked on volcanic and geothermal systems around the world, and has been Principal Investigator or Chief Scientist for 8 major geothermal exploration or scientific drilling projects, including four in the Valles Caldera. He has had a strong educational focus during his career, including teaching, advising graduate students, and leading field trips for the public in the Jemez Mountains. His current research is on the large volcanoes in New Mexico.
---
Nominations for next year's awards are welcome from the general public.