2016 Earth Science Achievement Awards
The 2016 New Mexico Earth Science Achievement Awards were presented to Trudy Healy for "outstanding contributions advancing the role of earth science in areas of public service and public policy", and to Dr. Fred M. Phillips for "outstanding contributions advancing the role of earth science in areas of applied science and education".
These awards, sponsored by the New Mexico Bureau of Geology and Mineral Resources, a division of New Mexico Tech, were initiated in 2003 to honor those often unrecognized champions of earth science issues vital to the future of New Mexico.
The awards were presented in the rotunda of the state capitol building on Thursday, January 28, 2016, in conjunction with Earth Science Day. In addition to the Bureau of Geology and Mineral Resources, several other agencies staffed tables and displays in the west wing of the Roundhouse.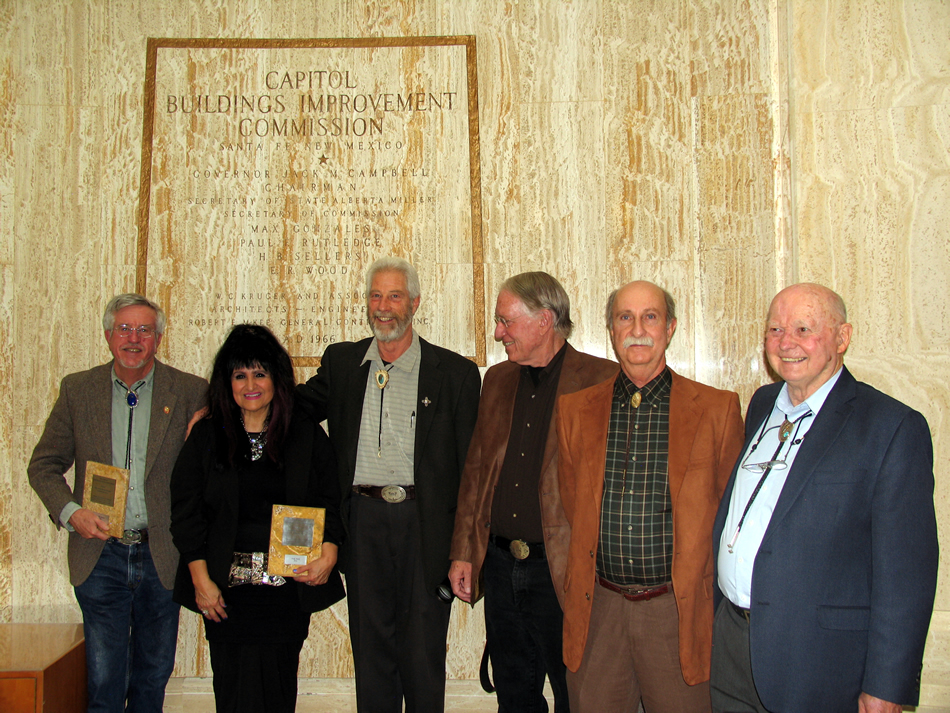 Public Policy & Service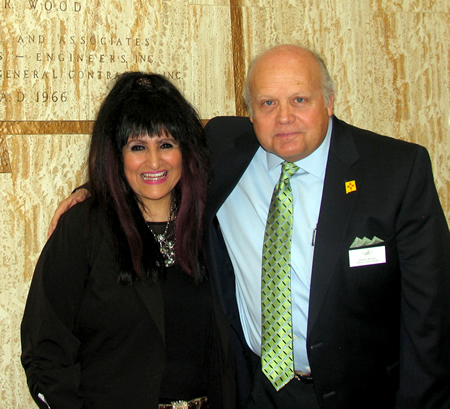 Trudy Valerio Knox Healy comes from a long family history in the Taos area acequias. She has been active in water-related issues in northern New Mexico for more than three decades. Trudy served on Governor Richardson's transition team on tasks directly related to protecting and promoting New Mexico's environment. In 2001, Governor Richardson appointed Trudy to the Water Trust Board where she went on to serve as Treasurer. During her tenure, The Water Trust Board awarded more than $200 million in statewide water projects.
For more than 20 years, acting as an Irrigation or Water Conservancy District Surface Water Representative, Trudy has advocated for watershed studies and projects. For many years, Trudy has worked diligently to ensure that acequia associations get the requisite technical assistance so that they can secure capital funding for their projects.
For her tireless efforts on behalf of the people of New Mexico, Trudy and the Healy Foundation have been recognized and given many awards. These awards have come from agencies and organizations including the New Mexico Department of Agriculture, the Interstate Stream Commission, the Office of the State Engineer, the Navajo Nation, Taos County, the Town of Taos and the Rocky Mountain Youth Corps. Trudy has been recognized on three separate occasions for her extraordinary efforts by the New Mexico House of Representatives, she has been deemed a Water Protector by the Town of Taos and a Guardian of Water Resources by the Taos County Board of Commissioners.
Trudy Healy and her husband, Ed, acting as the Healy Foundation, continue to be very active in water issues and other cultural issues that are close to their hearts. Trudy is well known for her loyalty to the state and promotion of a "holistic" management style.
Research & Education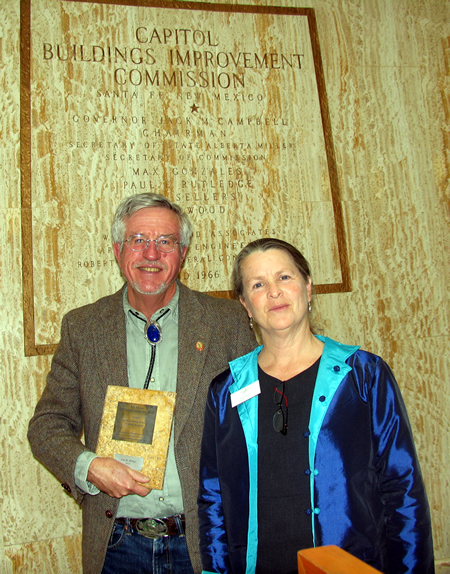 Dr. Fred M. Phillips has worked as a hydrology professor in the New Mexico Tech Earth and Environmental Sciences Department for the past 34 years; he retired in 2015. During his years as a professor, Dr. Phillips advised over 50 graduate students and published well over 100 peer-reviewed technical journal articles.
These journal articles dealt with the hydrology and geology of New Mexico and the Rio Grande basin. Fred has been an early developer and leader in the field of earth-surface chronology, using isotopes produced in rocks by cosmic rays.
Fred is the only person to receive both the O.E. Meinzer Award (hydrogeology) and the Kirk Bryan Award in geomorphology from the Geological Society of America. Fred has also been awarded the F.W. Clarke Award from the Geochemical Society and has been elected as a Fellow of the American Geophysical Union.
In 2011, working with Emlen Hall and Mary Black, Fred co-authored an authoritative book titled Reining in the Rio Grande, People, Land and Water, published by the University of New Mexico Press. Fred continues to be very active in New Mexico hydrology issues and is a highly sought after speaker for his commentary on current water-related events.
Both Trudy Healy and Fred M. Phillips join a distinguished list of previous awardees of the New Mexico Earth Science Achievement Award. Both are highly accomplished professionals in every sense of the word.
---
Nominations for next year's awards are welcome from the general public.