Our name and logo have changed...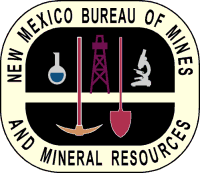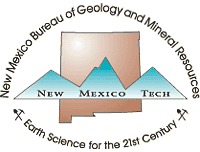 We have a new name! As of June 15, 2001, our name changed from the New Mexico Bureau of Mines and Mineral Resources to the New Mexico Bureau of Geology and Mineral Resources. Although this makes our already unwieldy name even longer, we feel it's a good change, and worth the trouble. Our new name more fairly reflects the state's changing geologic needs, and the corresponding changes that have occurred in our organization since our founding in 1927.
At that time mining was by far the most dominant geologic activity in the state. Many other geologic needs and disciplines (mapping, geohydrology, geologic hazards investigations) were either poorly defined or non-existent. That has certainly changed in the subsequent 74 years. The changes in our mandated tasks reflect the present-day realities in which we serve effectively as New Mexico's state geological survey. Mining continues to play an important role in the state's economy, and we're proud of our long association with the mines and mining history of the state. Nonetheless, we want to avoid confusion with those state agencies with regulatory responsibilities. We continue to support the mining industry in New Mexico, but much of our effort today is directed to baseline geologic mapping, water-resource investigations, energy-related research and data archiving, and our ongoing mineral resource studies.
Our mission continues to be one of service, outreach, research, and education. We are proud of what we do for New Mexico, and we feel that inclusion of the word Geology in our name more adequately conveys the scope of our current and future activities. We hope to continue to respond to the growing and changing needs of the people of New Mexico.
excerpted from: Earth Matters, v. 1, n.2, Summer, 2001