Rockin' Around New Mexico
An Annual Geologic Workshop for K-12 Teachers

Each summer, the New Mexico Bureau of Geology conducts a 3-day geology workshop for teachers. The workshop is based at a new location each year and includes hands-on sessions along with field trips to explore local geology. Topics include mineral resources and mining, environmental geology, paleontology, seismic hazards and mitigation, and school earthquake safety. An optional one-hour graduate credit through the Master of Science for Teachers program at New Mexico Tech is available. Enrollment fee for the workshop is $40. Curriculum materials and a few meals will be provided. Travel and lodging are paid up front by participants, with possible reimbursement through a yearly grant. Mark your calendar and join us this summer (teachers only, please!)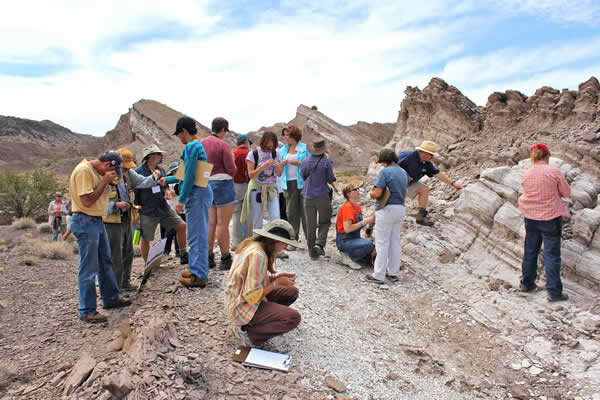 Regular sponsors for Rockin' Around New Mexico include the New Mexico Bureau of Geology, New Mexico Tech, New Mexico Department of Homeland Security and Emergency Management, New Mexico Mining Association, and the New Mexico Geological Society. Locations for some recent sessions are as follows:
Recent Rockin' Workshops:
2010: Socorro
2011: Jemez Springs
2012: Jemez Springs
2013: Socorro
2014: Silver City
2015: Socorro
2016: Las Vegas
2017: Socorro
Next Rockin' Workshop
Science Educators: Registration now open for the 2018 session! Contact Cynthia Connolly (see below) for an application.
Rockin' Around New Mexico
July 11-14, 2018
Truth or Consequences, New Mexico
Rockin' Around NM: Geology workshop for teachers (with an optional Masters of Science for Teachers graduate credit through the ST-540 course)
This workshop is designed for teachers interested in expanding their knowledge of geoscience and geologic hazards and is based out of Truth or Consequences this year. During the workshop, the participants will have in-class and field instruction about the relationships between earthquakes, magma bodies, and faults in determining landscape dynamics and stability in New Mexico. Special environmental geology topics will include a continuation of our studies about the important relationship between hydrology and subsurface structural features, including sediments, faults, and fractures. The 2018 Rockin' theme is Citizen Science and topics will include:
Citizen Science data sharing to contribute to earthquake and public safety outreach, climate research, and other studies.
The study of the Rio Grande Rift, Hot Springs-Walnut Canyon, and the Palomas Formation to identify patterns that allow geologists to understand faulting and sedimentation history.
Field studies to teach participants how to identify ancient stream flow sediments from ancestral Rio Grande deposits and how to use paleoseismic trench statigraphy to describe past earthquakes. We will also tour the Rio Grande Rift and Hot Springs-Walnut Canyon Fault to investigate features of a three million year old geothermal system.
Modeling of groundwater and surface water interactions. 
The use of graphic design applications to create a story map of our tours.
Earthquake preparedness, safety, and how "Did You Feel It?", "Citizen Science," and "Zooniverse" websites can be used to understand the extent and impact of earthquakes around the world and offer teachers the opportunity to involve their classes in seismic science.
Although graduate credit is optional, first priority for registration will be given to students at New Mexico Tech.  The course is ST-540 Rockin' Around New Mexico. Call Megha Khandelwal at 575-835-5470 if you would like information about the Masters of Science for Teachers Program at New Mexico Tech.
To apply for the next workshop or for more information, contact:
Cynthia Connolly
- Rockin' Around New Mexico
New Mexico Bureau of Geology and Mineral Resources
New Mexico Tech
801 Leroy Place
Socorro NM 87801
phone: (575) 835-5264
e-mail: