Scenic Trips to the Geologic Past #16
Elephant Butte Eastern Black Range Region— Journeys From Desert Lakes to Mountain Ghost Towns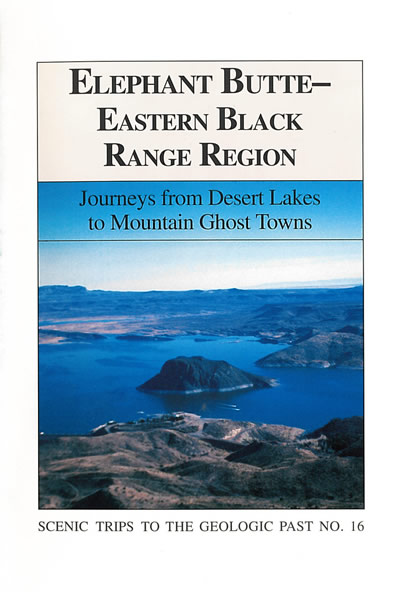 By R. P. Lozinsky, R. W. Harrison, and S. H. Lekson, 1995, 169 pp., 2 tables, 110 figs.
From warm, tropical seas to erupting volcanoes, the landscape in south-central New Mexico has changed character many times over its two-billion-year history. Blended with diverse geologic development is a rich cultural heritage that includes early American Indian settlements dating back as far as 500 A.D. Famous Indians such as Victorio and Geronimo campaigned against the U.S. Cavalry in the mountains and valleys. Fortunes were made and lost in the old mining towns. The first trip is made by car around Elephant Butte Lake, across the dam, into the infamous Jornada del Muerto (journey of death), to the old railroad town of Engle, New Mexico. A second trip visits the ghost towns of Winston and Chloride with a side trip to the former Warm Springs Apache Agency at Ojo Caliente in Monticello Box. The third trip visits Caballo Lake and the Black Range towns of Hillsboro, Kingston, and Lake Valley with an additional side trip to Emory Pass. A boat tour of southern Elephant Butte Lake, the fourth trip, completes the tour of the area. Discover the tumultuous geology that has shaped the landscape and human history in south-central New Mexico. Readers traveling southwestward will find Scenic Trip 10, Southwestern New Mexico, an interesting companion volume to Scenic Trip 16.