Scenic Trips to the Geologic Past # 6
Trail guide to the upper Pecos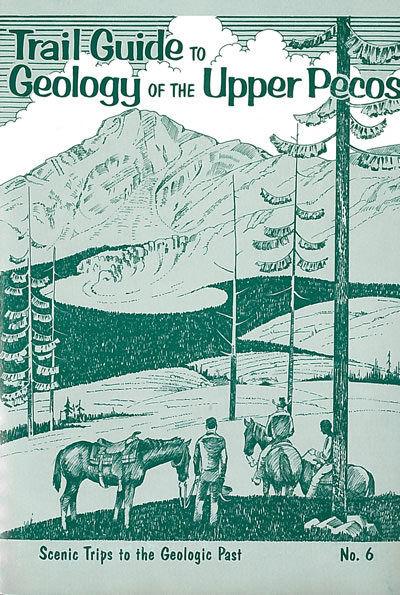 By P. K. Sutherland and A. Montgomery, (completely revised, 3rd edition),1975, 116 pp., 123 figs., 15 color plates, 1 geologic and trail map in back pocket, glossary.
Fifteen trail logs for hiking and horseback riding in the Pecos Wilderness of the southern Sangre de Cristo Mountains. This area encompasses one of the most beautiful recreational and wilderness regions in the Southwest. Venture into the splendor and incomparable beauty of the upper Pecos with two highly qualified geologists. Marvel at the rugged peaks and mighty canyons in this breathtaking wilderness. Along the main divides to the north and west, many spectacular peaks and ridges rise well above the timberline-the highest towering over 13,000 ft. This illustrated guide shows how geologic process have shaped the scenery-even affected the distribution of plants and animals. Some features are captured in full color. All trips except the highway drive into the area are by foot or on horseback. The detailed large-scale map is especially useful.