GM-69—Geology of St. Peter's Dome area, Jemez Mountains, New Mexico
By F. Goff, J. N. Gardner, and G. Valentine, 1990, lat 35°52'30" to 35°47'30", long 106°20' to 106°27'30", 2 sheets with text, scale 1:24,000.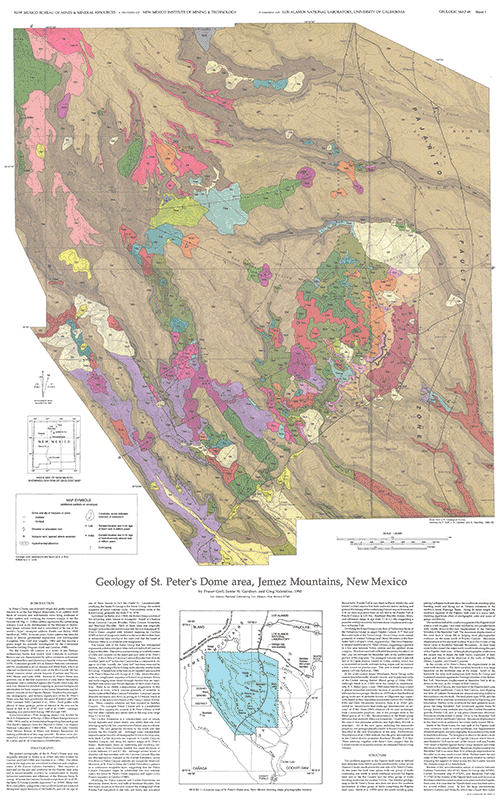 The area covered by GM-69 lies southeast of the Valles caldera, south of Los Alamos, east of White Rock, and west of the Cochiti mining district. Almost half of Bandelier National Monument is included in the map area. Forest Service Roads 289, 284, and 268 and several canyons draining the Jemez Mountains transect the area from northwest to southeast. The Pajarito fault zone, which crosses the eastern part of the map area, is a major north-south fault system along the western margin of the Rio Grande rift in northern New Mexico. The St. Peter's Dome area, upfaulted against the Pajarito fault zone, is an excellent location for detailed mapping of early Jemez Mountains volcanism, providing the background information necessary for additional research in the Jemez Mountains and evaluating seismic hazards for the communities of Los Alamos and White Rock. Rock exposures range from the Eocene Galisteo Formation to El Cajete Member of the Valles Rhyolite (0.15 Ma). Potassium-argon ages of volcanic units in the map area are conveniently listed and referenced in a table, including two previously unpublished ages for the Paliza Canyon Formation from Capulin Canyon and the Cerro Toledo Rhyolite at Rabbit Mountain dome. GM-69 also includes 29 map-unit descriptions, three cross sections, and a short discussion on hydrothermal alteration of Keres Group rocks.

Also available as a free download.