Bulletin 119—Petroleum geology of Pennsylvanian and Lower Permian strata, Tucumcari Basin, east-central New Mexico
By R. F. Broadhead and W. E. King, 1988, 75 pp., 4 tables, 34 figs., 4 appendices, 18 sheets.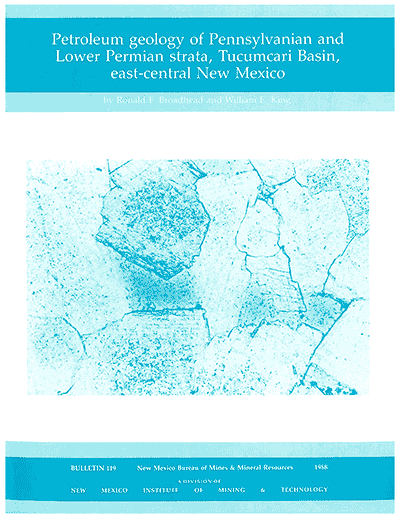 The Tucumcari Basin is an asymmetric depression that existed as a depositional basin from Pennsylvanian through Early Permian time. Petroleum exploration wells, drilled in the basin since the 1920s, have encountered promising oil and gas shows in Pennsylvanian, Lower Permian, and Triassic strata. The bulletin discusses the structure of the basin and the stratigraphy and reservoir geology of Pennsylvanian and Lower Permian strata. Known petroleum occurrences, source rocks, reservoir quality, and the migration and timing of petroleum generated in the basin are examined. Analyses of cores and drill cuttings and paleontologic studies of fusulinids from petroleum exploration wells are used to define the stratigraphic framework in the basin. Two structure-contour maps and four geophysical-log cross sections show the structural features of the basin. Twelve maps illustrate thickness and facies distributions within Pennsylvanian and Lower Permian units. The Tucumcari Basin of east-central New Mexico is a structural depression that initially developed during Middle Pennsylvanian time. It is bounded to the north by the late Paleozoic Sierra Grande Uplift and Bravo Dome and to the west by the late Paleozoic Pedernal Uplift. The Frio Uplift, a subsurface horst block, separates the Tucumcari Basin from the Palo Duro Basin of the Texas panhandle.
The Tucumcari Basin merges gradationally southward with the northwest shelf of the Permian Basin and the Roosevelt Dome. Depth to the Precambrian ranges from less than 2,000 ft on the Sierra Grande Uplift to more than 9,000 ft near the towns of Cuervo and Tucumcari.
The Tucumcari Basin contains a Precambrian basement overlain by sedimentary rocks of Mississippian, Pennsylvanian, Permian, Triassic, Jurassic, Cretaceous, Tertiary, and Quaternary age. Precambrian and Mississippian units are pre-basinal. Pre-Mississippian Paleozoic strata are not present; they have not been reported in subsurface data and are not exposed. Major structural development of the basin occurred from Desmoinesian through Wolfcampainian time. Bounding basinal faults cut Strawn, Canyon, and Wolfcampian strata and control thickness and facies distributions within these units. Few faults cut middle and Upper Permian units.

Also available as a free download.
Download
File Name
Size
Last Modified
B119.pdf
25.47

MB

01/15/2021 11:05:14 AM