Circular 167 — New Mexico's Energy Resources '77--Office of the State Geologist
By Emery C. Arnold, et al., 1978, 47 p.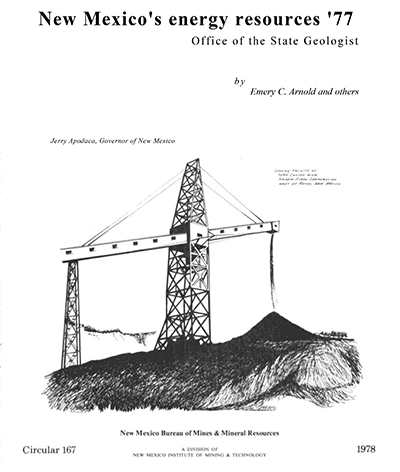 Production of crude oil and condensate in New Mexico has declined from the high of 129.2 million barrels in 1969 to 92.1 million barrels in 1976; the decline is expected to continue. Natural gas production, which had been increasing until 1975, also experienced a slight decline in 1976. The Blanco Mesaverde Gas Pool in northwest New Mexico is the most prolific gas pool in the state, and an estimated 7,120 billion cubic feet of reserves re - main in the pool as of January 1, 1975. The first discovery of commercial natural gas out - side the known southeast and northwest provinces was made in Mora County in September 1973; now gas is being produced there from a Dakota Sandstone reservoir. Two new independent estimates of state oil reserves are presented along with previously published estimates. Coal production totaled 9,980,322 tons in 1976, most of it from the Navajo and San Juan mines. An environmental impact statement is required by the U.S. Department of the Interior on 4.8 million acres in northwest New Mexico before coal leasing and development can continue on Federal land. Production of U30, totaled 6,500 tons in 1976, 46 percent of the U.S. total; New Mexico also ranked first in U308 reserves (357,000 tons in the $30-cost category). Potential geothermal resources occur along the Rio Grande Valley and in the west-central and southwest areas; as of September 15, 1977, the U.S. Bureau of Land Management had issued 97 currently active geothermal leases; the State Land Office had issued 185.

CD or DVD-ROM format
This publication is out-of-print. It is available on CD or DVD-ROM.
Also available as a free download.