Dr. Peter Scholle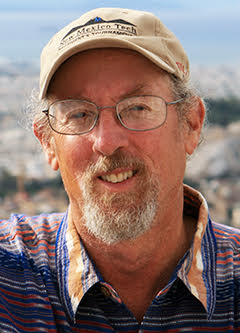 Emeritus - Director & State Geologist
New Mexico Bureau of Geology & Mineral Resources
New Mexico Institute of Mining & Technology
801 Leroy Place
Socorro NM 87801-4796
(575) 835-6333 fax
I was very fortunate in my education and early career years to find wonderful mentors — Bob Folk, Al Fischer, Robin Bathurst, Jim Wilson and many others — who shared with me so many of their insights and skills. Largely as a result of their efforts, I have had a rich and diverse career in geology: nine years of Federal governmental work with the U.S. Geological Survey, four years directly employed by oil companies (plus many additional years of petroleum consulting), 17 years of teaching at two universities, and 12 years in state government at the Bureau.
During most of that time, my main areas of specialization were carbonate sedimentology and diagenesis as well as exploration for hydrocarbons in carbonate rocks throughout the world. I have worked on projects in nearly 20 countries, with major recent efforts in Greenland, New Zealand, Greece, Qatar, and the Danish and Norwegian areas of the North Sea. A major focus of my studies dealt with understanding the problems of deposition and diagenesis of chalks, a unique group of carbonate rocks that took on great interest after giant oil and gas discoveries in the North Sea. My career has also concentrated on synthesis of sedimentologic knowledge with the publications of several books on carbonate and clastic depositional models and petrographic fabrics.
Work at the U.S.G.S. and at SMU broadened my overall interests beyond carbonate sedimentology, however. At the U.S.G.S., I worked extensively on basin analysis of the clastic-dominated eastern U.S. continental margin and on scientific management at a variety of levels. Thus, I dealt with geological and geophysical studies, resource evaluation problems, environmental projects and the like. I also managed the Branch of Oil and Gas Resources at the U.S.G.S. and was Chief Scientist for Carbonate Studies at Gulf Research. At SMU, I developed courses and research activities that reflected those broadened interests. I taught introductory courses in environmental science and oceanography, a field course in reef ecology, a seminar class in global environmental problems, and occasional classes in carbonate sedimentology. I remain active in promoting the integration of computer technologies in classroom and laboratory instruction. My wife and I have published numerous CD-ROMs for geology, oceanography and environmental science instructors and we currently are developing computer-based instructional modules and expert systems in carbonate petrography. I plan to resume doing research in the Late Paleozoic rocks of New Mexico and the chalks of the North Sea, as well as teaching and advising at New Mexico Tech.
See my full CV for more details.
(See Curriculum Vitae)
Education
Employment History
Cities Service Oil Co. Research Lab, 1970-1971
University of Texas at Dallas, Assistant Professor, 1971-1974
U.S. Geological Survey (Reston, VA), 1974-1977
U.S. Geological Survey (Denver, CO), 1977-1983 (including 3 years as Chief of the Branch of Oil and Gas Resources)
Gulf Resarch Co. (Houston), Chief Scientist for Carbonates, 1983-1985.
Southern Methodist University, Albritton Professor of Geology, 1985-1999
New Mexico Bureau of Geology & Mineral Resources, 1999-2011
New Mexico Institute of Mining & Technology, Emeritus Faculty Member, Special Pubs. Editor, 2011-present
Scholle Petrographic LLC, Vice-President and Treasurer, 2013-present
Specialties and Interests
Carbonate sedimentology and diagenesis, especially in Cretaceous chalks and late Paleozoic limestones
Design of computer-based geologic instruction
Petroleum geology of carbonate systems
Recent Projects
Chalk diagenesis in the North Sea — examination and predictive modelling of the causes of porosity loss and retention in rapidly buried, fine-grained carbonate reservoir rocks
CD-ROM-based course in carbonate petrography — a self-paced interactive computer module to teach students and professionals the art and science of examining carbonate rocks under the microscope.
Depositional and diagenetic studies in Pennsylvanian and Permian carbonates of New Mexico — continuing field and laboratory studies in the Guadalupe and Sacramento Mtns. and other localities.
Relationships between depositional facies and diagenetic history of Late Cretaceous limestones of the Greek Ionian islands
Diagenesis and dating of hardgrounds and exposure surfaces in the Tertiary of the South Island, New Zealand
Virtual Geologic Tours