Virgil W. Lueth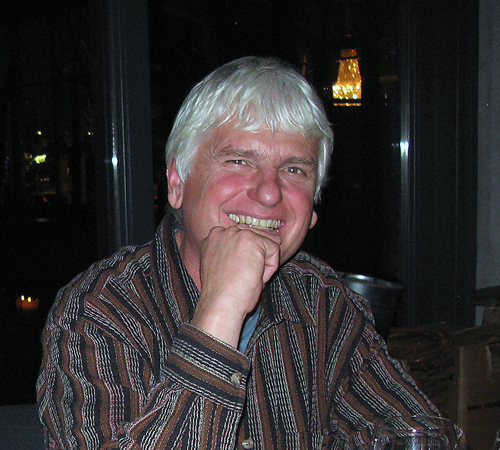 Senior Mineralogist / Economic Geologist
Director — Mineral Museum
Director — XRD Laboratory
New Mexico Bureau of Geology & Mineral Resources
New Mexico Tech
801 Leroy Place
Socorro NM 87801-4796
(575) 835-5140 ph
(575) 835-6333 fax
My position essentially serves as the mineralogist for the state of New Mexico. In addition to directing the activities of our world-class Mineral Museum, the mineralogist generates and provides information for professional geoscientists, mineral enthusiasts, and the general public. Dissemination of this information accomplished through personal interactions, public education, publications, hosting and attending meetings, in addition to pursuing original research in the fields of geochemistry, economic geology, and related fields.
Professional Preparation
University Of Wisconsin At Eau Claire: Geology BS 1981
University Of Texas At El Paso Geology: Metal. Eng. Minor MS 1984
University Of Texas At El Paso Geology: Chemistry minor PhD 1988
Appointments
2000-current: Sr. Mineralogist/Economic Geologist & Director – Mineral Museum
2013-current: Adjunct Professor: Earth & Environmental Science, New Mexico Tech
1995-current: Adjunct Curator: New Mexico Museum of Natural History & Science, Albuquerque, NM.
2000-2004: Assistant Director for Public Outreach
1994-2000: Mineralogist/Economic Geologist
1988-1994: Assistant and Associate Professor: Tarleton State University (Texas & M)
Selected Publications
(see my CV for a complete listing)
Lueth, V.W., Peters, L., and Chamberlin, R., 2016, A 40Ar/39Ar Age and Paleogeographic Setting for the Riley Travertine, Socorro County, New Mexico: New Mexico Geological Society, 67th Field Conference Guidebook, p. 58-61.
Crook, J.C. and Lueth, V.W., 2014, A geological and geochemical study of a sedimentary-hosted turquoise deposit at the Iron Mask mine, Orogrande, New Mexico: New Mexico Geological Society, 65th Fall Field Conference Guidebook, p. 227-234.
Howald, T., Person, M. Campbell, A., Lueth, V., Hofstra, A., Sweetkind, D., Gabel, C.W., Banerjee, A., Luijendijk, E., Crossey, L., Karlstrom, K., Kelley, S., and Phillips, F.,  2014, Evidence for Long-time scale (>103 years) changes in hydrothermal activity induced by seismic events: Geofluids, 21 Nov 2014; DOI: 10.1111/gfl. 12113.
Samuels-Crow, K.E., Lueth, V.W., Peters, L., McIntosh, W.C., 2012, 40Ar/39Ar Geochronology of jarosite: the effectiveness of HF in removing silicate contaminants: Chemical Geology, v. 314-317, p. 23-32.
Lueth, V.W., 2011, Quartz pseudomorphs after Anhydrite from the San Juan Mountains, Colorado: Mineralogical Monographs, v. 15 p. 44-45.
Partey, F., Lev, S., Casey, R., Widom, E., Lueth, V.W., and Rakovan, J., 2009, Source of fluorine and petrogenesis of the Rio Grande Rift-Type barite-fluorite-galena deposits: Economic Geology, v. 104, p. 505-520.
Campbell, A.R., and Lueth, V.W., 2008, Isotopic and textural discrimination between hypogene, ancient supergene, and modern sulfates at the Questa Mine, New Mexico: Applied Geochemistry v. 23 , p. 308-319.
Papike, J.J., Burger, P.V., Karner, J.M., Shearer, C.K., and Lueth, V.W., 2007, Terrestrial analogs of Martian jarosites: Major, minor element systematics and Na-K zoning in selected samples: American Mineralogist, v. 92, p. 444-447.
Lueth, V.W., Rye, R.O. and Peters, L., 2005, "Sour Gas" Hydrothermal jarosite: Ancient to modern acid sulfate mineralization in the southern Rio Grande Rift: Chemical Geology, v. 215, p. 339-360.
Lueth, V.W., Peters, Lisa, and Chamberlin, Richard, 2004, 40Ar/39Ar age dating of hydrothermal manganese mineralization in the Luis Lopez district, New Mexico: New Mexico Bureau of Mines & Mineral Resources Bulletin 161, p. 239-249.
Lueth, V.W., Megaw, P.K.M., Pingitore, N.E., and Goodell, P.C., 2000, Systematic variation in galena solid solution compositions at Santa Eulalia, Chihuahua, Mexico: Economic Geology, , v. 95, pp. 1673-1687.
Synergistic Activities