Bulletin 137—Field guide to geologic excursions in New Mexico and adjacent areas of Texas and Colorado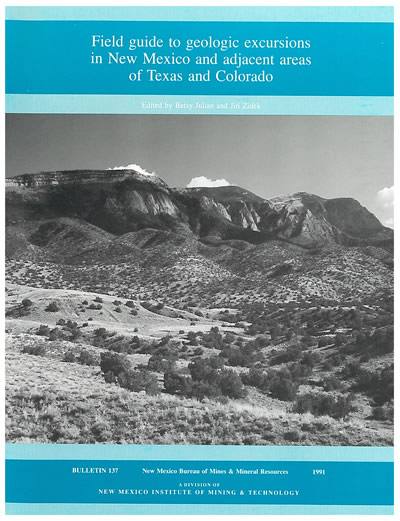 Edited by B. Julian and J. Zidek, 1991, 192 pp., 15 tables, 168 figs., 2 appendices.
This volume (a companion to Bulletin 138) has been prepared for the Geological Society of America Rocky Mountain and south-central Sections annual meeting in Albuquerque on 21–24 April 1991. It contains 10 field guides to trips scheduled to take place before, during, and after the meeting. Fifty-five authors have contributed to the volume. The following field guides are included:
Examples of modern rift volcanism and Proterozoic anorogenic magmatism: the Potrillo volcanic field of southern New Mexico and the Franklin Mountains of west Texas.
Open-system magmatic evolution of the Summer Coon and Del Norte volcanoes, Conejos Formation, San Juan Mountains volcanic field, Colorado;
Geomorphic and neotectonic evolution along the margin of the Colorado Plateau and Rio Grande rift, northern New Mexico;
Correlation of Triassic strata of the Colorado Plateau and southern High Plains, New Mexico;
Tectonics, intrusive rocks, and mineralization of the San Pedro-Ortiz porphyry belt, north-central New Mexico;
Proterozoic tectonic history of the Manzano Mountains, central New Mexico;
Late Pennsylvanian stratigraphy and paleontology of the Kinney Brick quarry, Manzanita Mountains, New Mexico;
A tale of two volcaniclastic aprons: field guide to the sedimentology and physical volcanology of the Oligocene Espinaso Formation and Miocene Peralta Tuff, north-central New Mexico;
Quaternary and Neogene landscape evolution: a transect across the Colorado Plateau and Basin and Range provinces in west-central New Mexico; and
Lower and Middle Pennsylvanian stratigraphic relations, type Derryan region, southern New Mexico and westernmost Texas (measured sections in the type Derryan region are available separately as Open-file Report 373).

CD or DVD-ROM format
This publication is out-of-print. It is available on CD or DVD-ROM.
Also available as a free download.
These fifty-seven authors contributed to this volume:
E. Y. Anthony
C. G. Barnes
W. Chen
J. M. Hoffer
G. R. Heller
K. M. Marsaglia
V. T. McLemore
J. M. Seeley
M. A. Seward
W. M. Shannon
W. F. Thomann
D. F. Parker
D. A. Grau
C. D. Thomas
M. A. Gonzalez
D. P. Dethier
S. J. Lucas
S. R. Maynard
L. A. Woodward
D. L. Giles
A. G. Thompson
J. A. Grambling
R. D. Dallmeyer
P. Huber
S. G. Lucas
G. A. Smith
D. Larsen
S. S. Harlan
W. C. McIntosh
D. W. Erskine
S. Taylor
J. W. Hawley
D. W. Love
J. L. Betancourt
R. M. Turner
S. Tharnstrom
L. Thompson
E. Mosley-Thompson
A. Wilson
G. Leonard
R. S. Anderson
P. G. Drake
C. D. Harrington
S. G. Wells
F. V. Perry
A. W. Laughlin
R. P. Lozinsky
W. C. Haneberg
R. C. Lohmann
J. M. Davis
F. Phillips
B. D. Allen
P. J. Slavin
W. W. Clopine
W. L. Manger
P. K. Sutherland
D. A. Kaiser
Download
File Name
Size
Last Modified
B137.pdf
29.63

MB

01/15/2021 01:23:40 PM