Circular 188 — Adobe Bricks in New Mexico
By Edward W. Smith, 1982, 89 pages.
Note: This publication was superceded by Bulletin 159.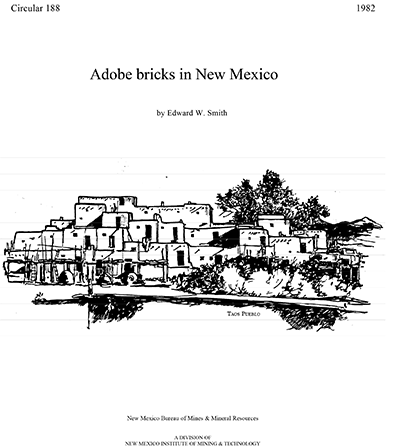 The use of adobe by the pueblo Indians, the Spanish. and, later, the Anglo-Americans has resulted in a native architecture that is a unique aspect of New Mexico. Historically and up to the present day, New Mexico has remained the largest manufacturer and user of adobe bricks in the United States. Results of a field investigation and sampling program identified 75 adobe producers in the state, 48 of which were active during 1980. Production in 1980 totaled 4,133,000 adobe bricks valued at $1,174,598. A total of 30 adobe-brick producers, representing 87% of the active manufacturers, are located in the Albuquerque and Española Basin areas of the Rio Grande valley where a total of 3,448,000 bricks were produced in 1980. Of all producers, the 10 largest scale adobe brick manufacturers (150,000-1,000,000 adobes/yr) produced 81% (3,361,000) of the state's total adobe-brick production. Engineering tests on the bricks were performed by the New Mexico Institute of Mining and Technology, Rock Mechanics Laboratory, in Socorro. Tests were performed on adobes from 56 locations, with the majority of adobe bricks meeting the specifications of the Uniform Building Code and the New Mexico State Building Code adopted in 1977 (Construction Industries Division, 1979). Full physical-property information on all types of bricks has been included here, as well as descriptions of the geology of the major adobe-soil locations. The mineralogy of the adobe clays was analyzed by the New Mexico Bureau of Mines and Mineral Resources as belonging in four clay-mineral groups. The terminology of the adobe-brick industry, general characteristics, economic factors, and techniques of production are also detailed in the report. In addition, examples of buildings representing the four architectural periods in New Mexico covering a span of 900 yrs are outlined and illustrated. Finally, in the appendices, adobe-building construction details and specifications as well as unique uses of adobe are included.

CD or DVD-ROM format
superceded by Bulletin 159
This publication is out-of-print. It is available on CD or DVD-ROM.
Also available as a free download.