The Ship Rock landform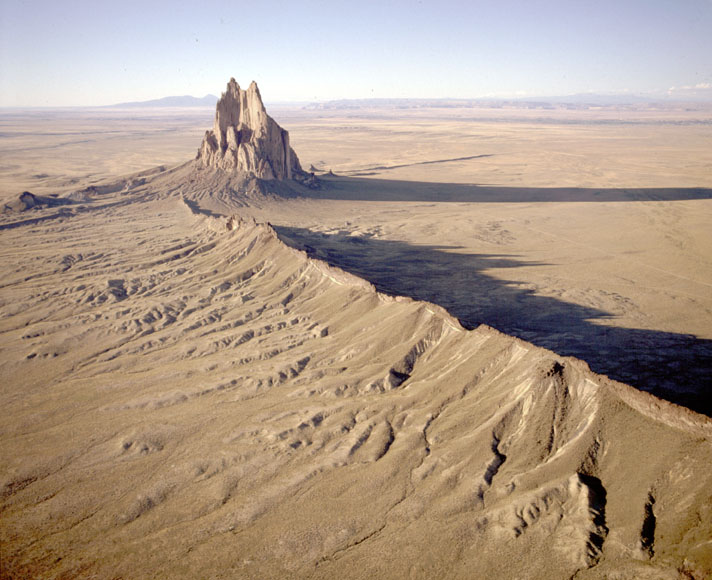 The Ship Rock landform, located in northwestern New Mexico, is the remnant of an explosive volcanic eruption that occurred around 30 million years ago. The main part of the landform is 600 meters high, and 500 meters in diameter. Ship Rock, known as Tse Bitai, or "the winged rock" in Navajo, is a volcanic neck, or the central feeder pipe of larger volcanic landform which has since eroded away. The neck is composed of fractured volcanic rock, or breccia, crosscut by many thin veins of lava. Ship Rock is composed of an unusual, highly potassic magma composition called a "minette", thought to form by very small degrees of melting of the earth's mantle. Ship Rock was probably 750 to 1000 meters below the land surface at the time it was formed, and has since gained its prominent form due to erosion of surrounding rocks.
Another striking feature of Ship Rock are the dikes, or wall-like sheets of lava that radiate away from the central neck. At least two of these dikes are visible in this image. A total of six dikes have been recognized. These dikes would have been intruded at some depth below the earth's surface at the time that the Ship Rock eruption was occurring. Like the neck, the dikes have since been exposed due to differential weathering through time of the hard lava of the dikes, and the more easily eroded sandstone and shale of the countryrocks.
For more information about Ship Rock, and more images of the landform, see the following websites:
---
Continue with virtual tour of the geology of New Mexico