Data Repository
Find a Repository Dataset (You can also browse listings by Author or Year/Number.)
Data in this repository supplements published papers in our publications. Please refer to both the published material and the repository documentation before using this data. Please cite repository data as shown in each repository listing.
Please direct comments or requests regarding these datasets to either the author(s) or the Webmaster.
20100001
Bauer, Paul W.; Johnson, Peggy S.
, 2010, A rare, large artesian subaqueous spring in the upper Rio Grande, New Mexico Geology, v. 32, no. 1, pp. 26-27, 29.
Repository: 20100001
<
http://geoinfo.nmt.edu/repository/index.cfml?rid=20100001
>
Data Description:
Springs in The Rio Grande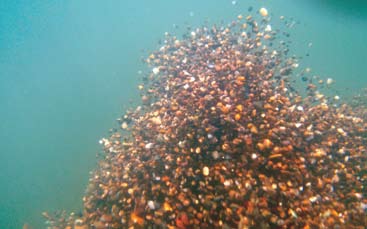 Underwater photo of a gravel plume in Lava Tube spring. These dancing plumes consist of rounded river gravel as large as an inch in diameter. Photo by Paul Bauer.
We've put together a slideshow on the giant underwater spring in the Rio Grande in Taos County. You can read about the spring in New Mexico Geology (click the 'Pub Info' link).
The show includes an embedded video of the underwater gravel eruptions in the spring. When the show gets to the movie, you may need to click (or double click, or hit return) on the movie to get it to run.
Click on your preferred link below to download the presentation:
Download