Decision-Makers Field Guide—2009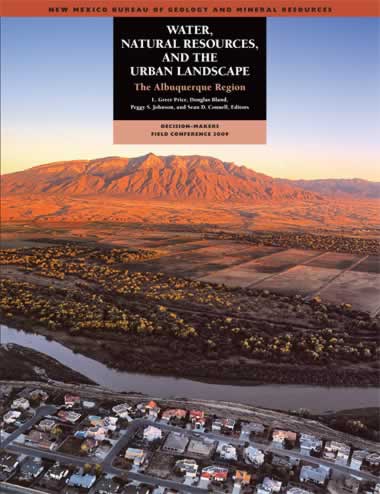 Water, Natural Resources, and the Urban Landscape
Edited by L. Greer Price, Douglas Bland, Peggy S. Johnson, and Sean D. Connell
The 2009 field guide provides a broad overview of geologic and resource management issues related to the rapidly growing Albuquerque metropolitan area. The 23 individual papers, written for a general audience, address the most critical of these issues, including water supply strategies for the future, geologic hazards of the Albuquerque area, saline waters and deep, non-potable aquifers, and flood control challenges. Several articles provide a broad overview of the geology and hydrology of the Albuquerque region. 152 pages with full color photographs, maps, illustrations, diagrams, tables, and a separate fold out map of the drainage facilities in the Albuquerque Metropolitan area.
See an overview of this series and the other available guidebooks.

Also available as a free download.
Download
Download free by chapter in PDF format:
(requires version 8 or greater) Note that the electronic version excludes some material.