Bulletin 160—Tectonics, geochronology, and volcanism in the Southern Rocky Mountains and Rio Grande rift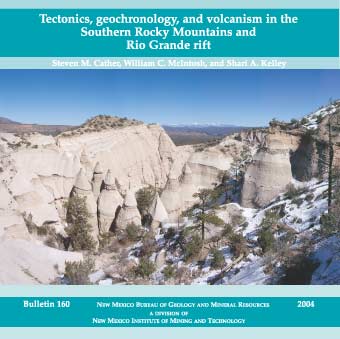 By Steven M. Cather, William C. McIntosh, and Shari A. Kelley (editors), 2004.
The fifteen papers included in this volume represent decades of research on the tectonic and volcanic history of the Southern Rock Mountains and the Rio Grande rift of New Mexico and Colorado. Detailed geologic mapping, geophysics, and expanded geochronology datasets provide important new insights into the volcanic and tectonic history of New Mexico and document a complex history of Laramide-age faulting. Authors address the Laramide-age structural development of the Front Range of Colorado and identify previously unrecognized trends in the timing and distribution of latest Eocene to Pliocene volcanism in Colorado and New Mexico. A wealth of new geochronologic data is provided, including hundreds of previously unpublished dates. Among other things, these data document the eruptive history of the Ocate volcanic field and provide ages for some of the yongest lava flows in the state of New Mexico. The data in the appendices are provided in a form that allows them to be imported into other programs (including GIS software) for manipulation. Many of these papers are destined to become classics in the scientific literature on the Rio Grande rift and the Southern Rocky Mountains.
Availability
Purchase on CD-ROM or download individual papers free!
ISBN: 9781883905217

CD or DVD-ROM format

Also available as a free download.
Download
The entire Bulletin-160 (zipped archive) is available for free download, or you can download individual papers in PDF Format.
Dedication (230.65 KB)
Introduction (102.54 KB)
Papers: