Virtual Geologic Tour of New Mexico
New Mexico State Parks and Monuments
Overview
A series of articles on the geology of the state parks in New Mexico by Virginia T. McLemore has been published in New Mexico Geology since 1979. These webpages are summaries, revisions, and updates of these articles.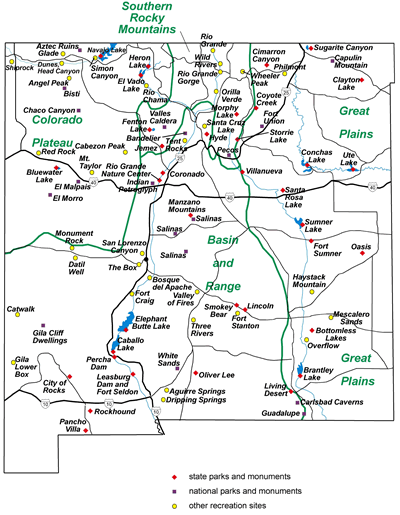 New Mexico State Parks and Monuments truly have something for everyone. The parks are managed by the State Parks Division of the New Mexico Energy, Minerals & Natural Resources Department. The geology and recreational activities of the parks are as diverse as New Mexico is. Geologic processes created the mesas, flood plains, mountains, and volcanoes that attract visitors to New Mexico state parks. These webpages are written primarily for nongeologists, but geologists and students should also find them useful.
There were 45 state parks, some of which were managed by local cities, and 6 state monuments (Table 1 — 50 kb PDF ). As a result of budget constraints or other reasons, several state parks have either been closed or transferred to other government agencies for management (see below). The Valley of Fires State Park is now part of the BLM Valley of Fires Wilderness Area. Chicosa Lake State Park closed in April 1996 because of excessive drawdown of the water table and subsequent drying of the lake; the animals were moved to Las Cruces. Only the 31 state parks and 5 state monuments open in 2003. Smokey Bear Historical Park was transferred from the State Parks Division to the State Forestry Department and also is included in this section.
The purpose of the state parks is to protect and preserve spacious areas, diversity of resources and to provide recreation. Resources include scientific, aesthetic, geologic, historical, recreational, and natural. The state monuments were established to protect historical sites and educate the public. Many of New Mexico state parks were established for picnicking, camping, and other recreational activities; some of the state parks and all of the state monuments are historical in theme. Geology always plays an underlying role.